<![CDATA[
Scientists, along with Automobile engineers, are trying their best to develop technologically advanced cars in the near future. Many concept cars are already developed with breathtaking aerodynamic design for the purpose of drag elimination which will also be greener, thus allowing less fuel consumption and less CO2 emission. Biofuel cars and electric cars are already on the verge of making sensation on the streets from their concept stages as Tesla has already developed many of the futuristic electric cars in recent years. According to engineers, cars powered by solar energy will dominate the road in the times coming. But, the population is very concerned about whether the technology they will get in cars in the near future will be within their budget. So here is the list of top 10 cutting edge technologies soon to be used in cars.
Top 10: Future Vehicle Cutting Edge Technologies:
10. Air-conditioned Seats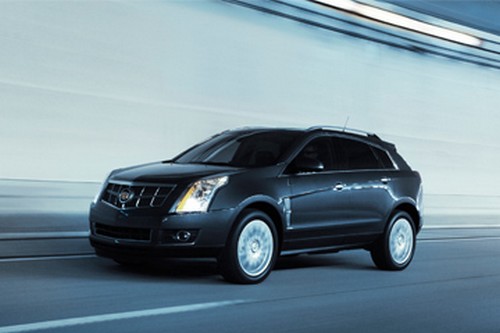 The standard model for air-conditioned seats was developed by National Renewable Energy Laboratory. This technology enables one to cool down the entire body of the car seats, such as the driver's as well as the passenger seats. The fabric used on the air-conditioned seat is porous mesh to allow the air flow through it, whereas multiple fans inside the seat produce refrigerated air circulation. The porous covering of the seat allows body's natural cooling system to work even when sitting down and keeps cool by circulating air across skin while the moving air carries body's heat away. Mercedes-Benz has also developed exclusive hot stone massage bucket seats for their 2014 S-Class which operates through 14 tiny air bags that inflate and deflate to stimulate the occupant's backside.
9. Traffic Signs Recognition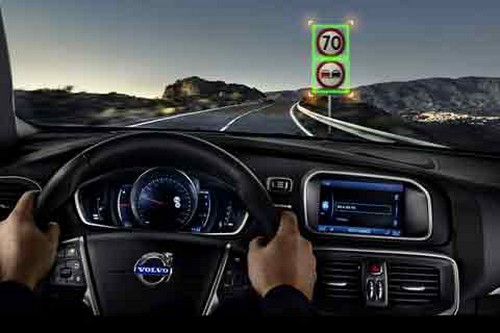 Some of the high-end cars by Audi and Mercedes-Benz use front-facing cameras to identify road signs such as "Speed limit" or "School Ahead" or "Turn Right/Left". The car can induct the speed limit right in the middle of the information cluster while combining the captured information from road signs with the data contained in the navigation systems. In cooperation by MobilEye and Continental AG, the first TSR systems which recognize speed limits were developed. It was then incorporated for the first time in the redesigned BMW 7-Series, followed by Mercedes-Benz S-Class in late 2008 which can detect the round speed limit signs all across Europe. The TSR also has an additional advantage of being able to support navigation systems with the detection of overhead LED based variable speed limit signs.
8. Night Vision with Pedestrian Detection
Cadillac first offered night vision in vehicles in 2000. An updated version of the night vision technology by Mercedes called Night View Assist Plus has been available in the S-Class since 2005. In the more recent version of this technology which is already offered in the 2010 E-Class, the new system will pinpoints pedestrians and highlight them on the dashboard display. BMW has a similar technology with a pedestrian identifier that also shows the moving direction of the pedestrian. Volvo has developed a combination of technologies which can identify pedestrians and cyclists, thus allowing avoidance of collisions in urban areas. The modern night vision systems detect infrared light or amplify the available light to detect objects out of range of the main headlights.
7. Augmented Reality Dashboards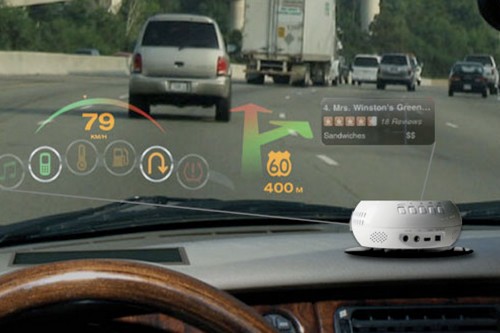 Display Screen on the windshield is already designed for many high-end cars. In the coming days, cars will be able to identify external objects in front of the driver and display information on the windshield about them. BMW has already implemented windshield displays in some of their vehicles which display basic information of the identified object, and now, they are also developing an augmented reality dashboard that will be able to recognize the distance from the object. This system will also display a red box in the windshield showing how to maneuver into the next lane before the collision if any other car approaches towards it. BMW recently projected a video where they uses AR glasses to look at the engine for identifying the parts need to be replaced and then also shows step-by-step instructions on how to fix it.
6. Intelligent Headlights

High-beam LED lights that detect oncoming vehicles and prevent the high beams from causing glare is already incorporated in many cars such as Mercedes, Audi and Mazda. This technology is capable of shading the precise areas of the headlight that would cause the other driver to experience glare when the system detects another vehicle coming from the opposite direction. On the other hand, active cornering headlight system processes the computerized data from speed and steering angles and swivels the main beams accordingly. This feature will illuminate the road in front of the vehicle while traditional headlights tend to illuminate the side of the road when turning. Audi and BMW are also racing to be the first carmakers to offer laser lights instead of traditional LED in a production car.
5. Adaptive Cruise Control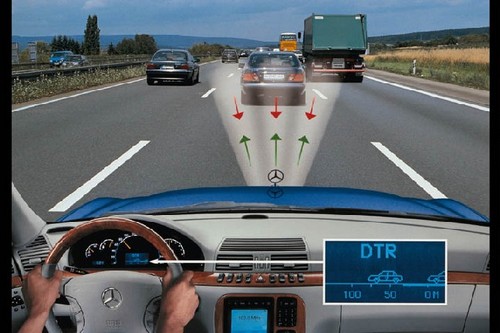 Cruise control in Modern cars is more than just maintaining a constant speed. With the help of Adaptive cruise control, the car itself will be able to turn the steering. This technology uses sensor and radar systems to adjust the steering and the throttle of the car with changing traffic flow or road without any cooperative support from other vehicles like V2V connectivity. The control is imposed based on sensor information from on-board sensors only. Mitsubishi was the first automaker to offer a laser-based ACC system marketed as "Preview Distance Control" in 1995 on the Japanese version of Diamante. Acura first introduced Adaptive Cruise Control integrated with a Collision Mitigation Braking System in the late 2005 in the United States.
4. Intelligent Braking System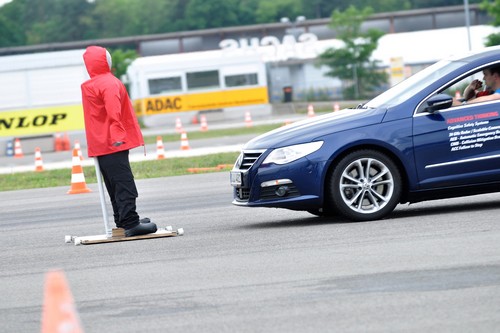 With this technology, the brakes of the future cars will be automatically engaged without any driver input to prevent possible collisions, while the Brake-Operated Pre-crash Seatbelts will help to mitigate injuries. The vehicle itself will assists the driver's braking action according to the situation, whereas this system will also deliver a warning buzz to prompt action by the driver to help avoiding a rear-end collision. This system depends on cross feed input from different sensors, radars, video cameras, ultrasonic emitters and even modern GPS technology. This system can prevent or lessen the impact in 1.9 million crashes a year according to The IIHS. Acura's new RLX sedan already features a "Brake Hold" button that will keep the brakes pressed automatically.
3. V2V Connectivity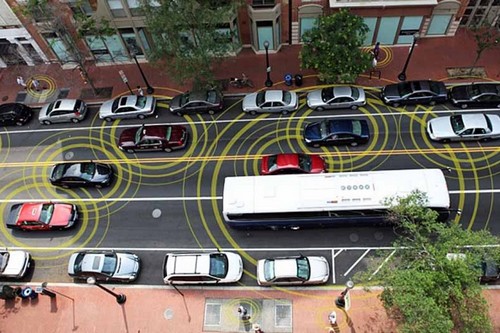 Future cars will communicate with each other with Vehicle to Vehicle connectivity and share information such as distance between the cars, speed and direction. It works by using wireless signals to send information between cars. MIT engineers are working on V2V algorithms that calculate information from surrounding cars to determine the best evasive measure if another car started coming into its projected path which will dramatically increase automotive safety. Ford is currently developing an intelligent vehicle system that uses advanced Wi-Fi technology to communicate with each other. In the first run of this prototype, in Ann Michigan's Arbor, almost 3,000 automobiles equipped with prototype V2V devices have been tested.
2. Advanced Automotive Cameras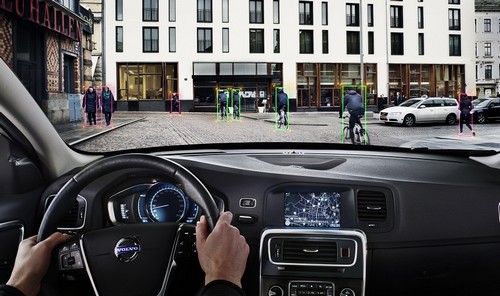 Sophisticated front camera systems will be a must-have feature for the soon-to-be-released cars as rearview cameras has already become standard equipment for mega-toys these days. According to the rules by National Highway Traffic Safety Administration, all light passenger vehicles would require to have rear view cameras by the end of 2014. Intelligent front cameras such as Cross-path cameras are already incorporated in few cars from Ford, Chrysler and BMW, which show a 180-degree view from the front of the vehicle and alert the driver if another car is approaching towards it. In the latest addition, Around View monitor designed by Infiniti enables a 360-degree live view while using a computer mechanism to mix four camera feeds. Infiniti's Around View is already available on BMW's 5 and 7 series in a $2,500 optional package.
1. Self-Driving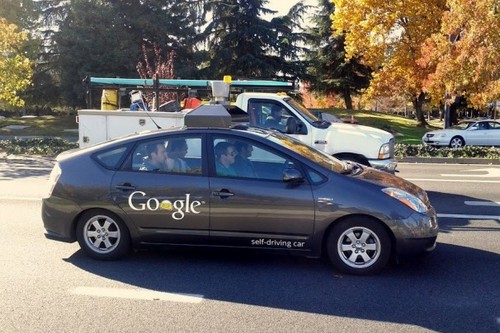 Cars will be driven on their own in the near future as this system is already innovated under Google Self-Driving Car project. This project was led by Google engineer, Sebastian Thrun, who is also the co-inventor of Google Street View and former director of the Stanford Artificial Intelligence Laboratory. The first autonomous car, a Toyota Prius modified with Google's experimental driver-less technology was registered in April 2012 under Nevada Department of Motor Vehicles after the Nevada law for self-driving cars went into effect on March 1, 2012. Florida became the second state to allow the testing of independent vehicles on public roads while California became the third. Google has already presented the latest prototype of their driver-less car that had neither steering wheel nor pedals on May 28, 2014.
By 2040, half of all new cars coming off the production line will be hybrids with energy-storing body panels according to Exxon Mobil. A group of nine auto manufacturers in Europe is currently researching body panels made of polymer fiber and carbon resin that can store energy and charge faster than conventional batteries. According to Volvo, these panels could reduce a car's weight by up to 15 percent.
]]>