Travelling is also an education. It's the most fun lesson to develop ourselves, our gaze, our general knowledge, and our empathy ability. Besides these, it is an education that is essential for some professions. Today we will talk about a topic that will draw the attention of one of these professions; city architecture. The buildings, which are shaped by the history of the cities, do not only make the architects dream about those good old days but us. We want to live in those times, step into that buildings, set up our families, eat, drink, laugh, love, behind those walls.
There are some cities with architectural structures that have attracted not only the architects but millions of travellers for decades.
Architects, travellers, history fans, if you're ready, this article is for you. Here are 9 fabulous cities with unique buildings carrying the traces of history on their walls!
1- ISTANBUL – THE LOVE STORY OF BYZANTINE AND OTTOMAN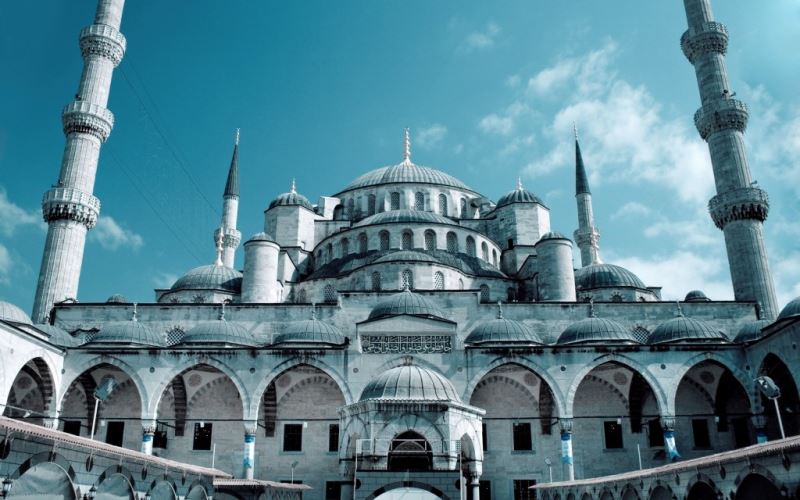 Istanbul, a city that is the home of eastern and western architectural movements, surrounded by famous artworks in every corner and home to thousands of historical buildings in 2 continents. We need weeks, not days to see the works of numerous architects art pieces, especially created by Mimar Sinan. Hagia Sophia, Topkapi Palace, Blue Mosque, Basilica Cistern, Galata Tower, streets of Balat that is full of historical buildings are some of the places to be seen in order to understand the historical texture of Istanbul.
The Byzantine domes, the Ottoman mosaics, the minarets and the Islamic calligraphy will make you fall in love with this city again and again.
Remember that having a Müzekart will be quite useful for you to visit the museums in İstanbul. You can have Müzekart through this link.
2- BARCELONA – MOSAIC IS THE JEWELLERY OF THIS CITY
Photo Credit: hotellacasadelsol.com
Have a look at this city from the air, or from the map. You will find out the great sync of every street that is connected with each other in Barcelona. Then walk around the streets to see them from another perspective. You will find several artworks by the famous architect Gaudi all over the city. The gothic architectures that are decorated with mosaics will make you feel in a different time zone. Of course, you shouldn't forget to check the little lizard sculptures on the buildings that Gaudi sees as a signature.
La Sagrada Familia; the most important and greatest artwork of the city, La Pedrera; a palace with a wavy structure, Palau Güell; the house of the Güell family, Casa Batllo; the house that is shaped by mosaic and Park Güell are the main artworks of this beautiful city.
3- FLORENCE – ART POISONING
Photo Credit: Trip Advisor
There is a disease called Florence Syndrome in the literature. It is a psychosomatic disorder that causes rapid heartbeat, dizziness, fainting, confusion and even hallucinations when an individual is exposed to an experience of great personal significance, particularly viewing art. We are smiling but it's not a joke:)
If you are in Florence, it seems impossible to escape the Renaissance architecture. The streets where art and history meet have been hypnotised visitors since the 14th century. Welcome to the homeland of symmetry, geometry and proportions.
Florence Cathedral, San Lorenzo Basilica, Vecchio Bridge and Vecchio Palas are just a few of the masterpieces you need to see in Florence. This city is built to walk and dream around the streets.
4- PRAGUE – A GIANT OPEN AIR MUSEUM
Photo Credit: Twisted Sifter
Prague is a huge open-air museum. It is home to 4000 historic buildings in the 900-hectare area. Romanik, Gothic, Renaissance, Baroque, Classical, Contemporary; whichever you are interested in, you can find it in Prague. Not only are there historical buildings but also the modern architecture trends cover the city in a magical way.
Prague is a very old city. Unlike most of the European cities that built in the 17-18th century, this city show it's characteristic architecture in the 13th century. We think the memory of these centuries makes this land such a unique art piece.
Powder Tower; served as a 65-meter tall gunpowder store, St Nicholas Church; the artwork that 3 generations of the same family could able to finish, Kinsky Palace; Franz Kafka's school, Villa Müller; one of the cubic artwork of modern architecture, and Dancing House; the masterpiece of contemporary architecture are some of the buildings worth seeing in the city.
5- CARTAGENA – FAVOURITE PLACE OF THE PIRATES OF THE CARIBBEAN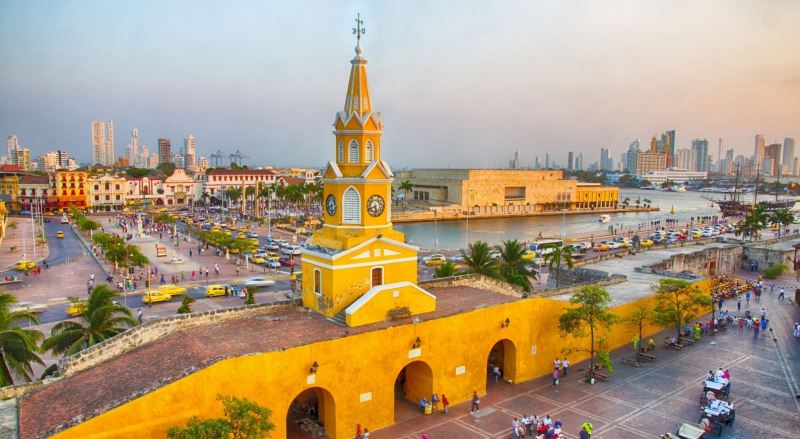 Photo Credit: Vistamarina Casa Hotel
City architectures are usually identified by the nations. Cartagena's architectural structure is determined by, surprisingly, pirates. We are going to talk about the influence of French and English pirates in this Colombian city.
After the establishment of the Cartagena city, it quickly became enriched and get the attention of the Caribbean pirates. Cartagena had it's characteristic architecture in 200 years after the city was repeatedly being attacked and burned by pirates; an 11-kilometre long wall.
This wall, a tiny version of the Great Wall of China, protected the city from pirates for years. In addition to this wall, most of the historic buildings around it were built for military reasons. Sounds boring, right? What about inside of the wall?
Unlike the wall, the interior architecture is super colourful. The balconies full of flowers, colourful 2-floor-buildings, courtyards, stone structures and giant beautiful doors explains the charm of this city.
Torre Del Reloj; a mustard colour clock tower, Catherine of Alexandria; the cathedral built by a French architect and damaged by English pirates, and San Pedro Claver Church is the most photographed buildings of the city.
6- ROME – GOLDEN CITY
Photo Credit: Hello Magazine
"Rome was a poem pressed into service as a city" Anatole Broyard
The most well-known architectural movement in the world, the Roman Architecture, greatly influenced many period and movements in the name of art and engineering.
It's so hard to decide where to start to explore the city which has thousands of great artworks. The buildings weren't just aim to make the city look beautiful but to reflect an idea. Using architecture as an expression of many political, spiritual and philosophical ideas, isn't that mean art already?
The world's largest amphitheatre Colosseum, the Ara Pacis Museum, which combines new and old in an innovative way, Il Vittoriano, also known as 'wedding cake', Peter's Church, also known as the best preserved historical monument, is just a few of the hundreds of works you should see.
7- LONDON – A CITY WITH SHARP CORNERS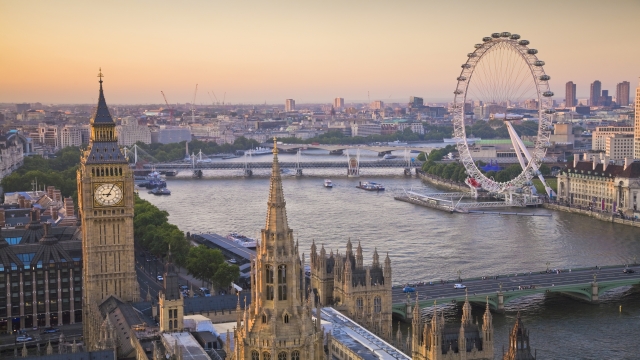 Photo Credit: visitlondon.com
In the 1600s a city burns and a city is born instead. That's London's short architectural story. London, which has been devastated after the Great Fire, was reshaped with baroque architecture. The skyscrapers of today's modern architecture added up to the piece of different architectural movements, and the silhouette of that beautiful city of rain is shaped.
St. Paul's Cathedral which is at the highest point of the city, Tower Bridge with its splendid structure, The Pancras Hotel and Railway Station, Big Ben with its 13-ton bell, and it's next-door Houses of Parliament, the British Library; one of the world's largest library, London Eye; the world's largest wheel with it's 4-D Cinemas, and Buckingham Palace with its 775 rooms are the main places you should see in London.
8- MARRAKECH – AN ARABIAN FAIRY TALE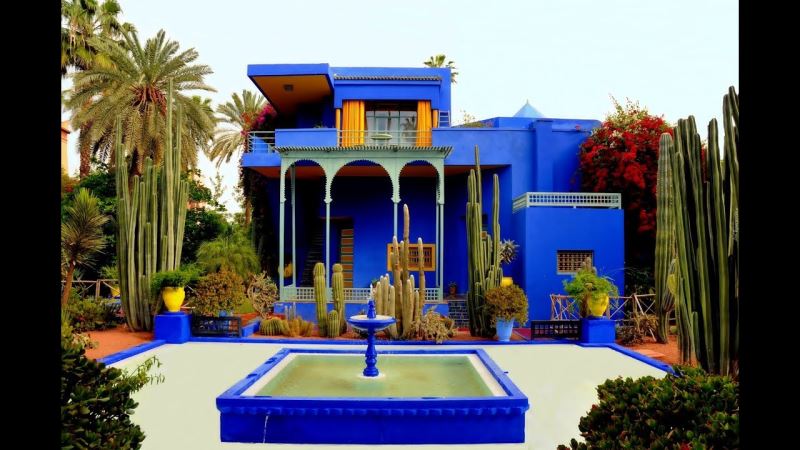 Photo Credit: Moroccan Interior Design
A mystical atmosphere, traditional motifs, curved structures; Now we are going to a place that is very different from European architecture. Our new stop is Marrakech. This city is literally hiding the most beautiful examples of Arabic architecture in. Before you go, you need to draw your route right, because these art pieces are spread all over the city.
Majorelle Garden that has the ashes of Yves Saint-Laurent, Koutoubia; the city's largest mosque, Ben Youssef; North Africa's largest medina, Dar Si-Saïd Museum, which makes you feel like a prince of the Arabs, Tiskiwin Museum; every room pointing to a different stop along the ancient Sahara trade route Marrakech to Timbuktu are some of the things you should see in this beautiful Arabian city.
9- DUBAI – A CITY WITH NO HISTORY
Photo Credit: Trip Advisor
Dubai is more unique than the cities we have mentioned so far. We know this super hot desert as an investment centre, instead of a historical city. The new face of the city shaped in the 1970s, not 17th century, like the European cities. With the discovery of petrol, it became a trading centre. After then, it applies attractive tax policies for many investors, not just for petroleum-based companies. In just 40 years, a simple fishing town turns into an ultra-city where skyscrapers have tennis courts on their terrace. The buildings in Dubai are almost like a capstone project.
Burj Al Arab; the world's only 7-star hotel, Palm Islands; known as the 8th Wonder of the World, Burj Khalifa; the world's longest skyscraper, Infinity Tower with its 90-degree angle are just a few of different structures you need to see in Dubai.
Are there other cities which you think are worth mentioning? Let us know in the comments below, tweet us, or tell us on Facebook