Crush Your Competitors on Facebook with these 7 Small Business Marketing Ideas – In my job, I'm exposed to the social media activities of tens of thousands of companies.
From these examples, and my own marketing experience, I've learned some small business marketing ideas that can help you on your social media initiatives.
Throughout my suggestions, I'm going to use a group of massage therapy businesses. These companies are interesting, because they are consumer focused, they need a strong web presence & SEO.
They also need to achieve localized marketing to get customers to come to a specific location & get a massage.
All of this is done with a competitive perspective, because you can't do marketing in a vacuum & without knowledge of what your competition is doing — and how they're performing.
For example, you may think you're doing well with 1000 fans, until you see your competition has 5000 Facebook Likes or more.
Crush Your Competitors on Facebook with these 7 Small Business Marketing Ideas
While you have to be on social media, most businesses can't do all social networks well at the same time.
So you need to figure out where your customers are — and where the competition is playing.
Facebook is the leading social network for business-to-consumer (B2C) marketing.
As you can see in this social channel matrix, many of these massage companies operate on multiple networks:

However, in looking deeper at the number of followers & potential reach — it's clear that Facebook is by far the priority & the focus.


So, if you were launching a new massage business, you would know from this initial competitive analysis that your first priority would be Facebook, then followed by Twitter.
2. Optimize your profile on that network
It's amazing how many companies create a page or profile but don't optimize that presence.
On Facebook, for example, you have the ability to provide a ton of detail on your page (accessible under Settings & Page Info). To start with, optimize your descriptions using the maximum number of characters allowed.
As you can see in this Facebook description overview, not all of our massage companies have optimized their descriptions.
Remember: you're allowed up to 154 characters in this basic description. This is the first thing visitors to your page will see, plus it helps drive search results within Facebook.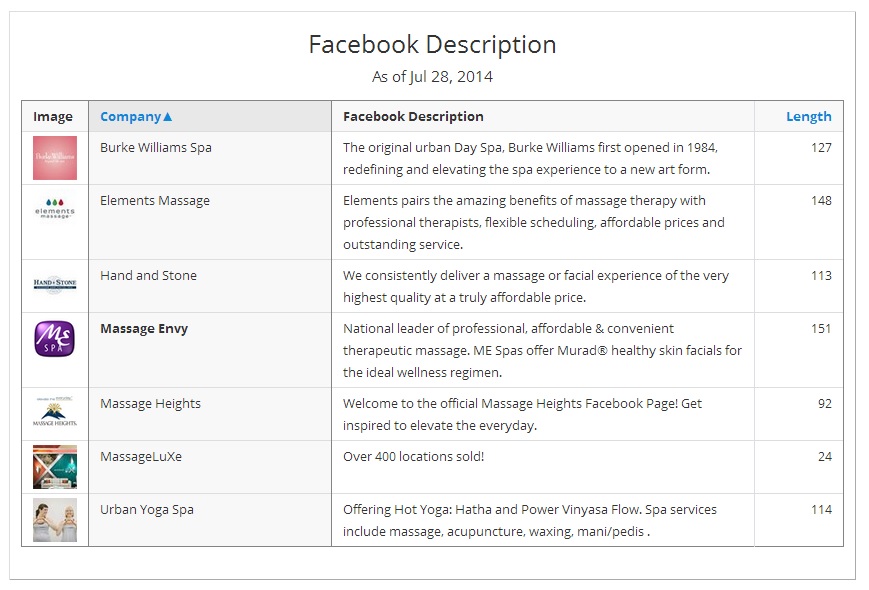 Use this section to tell Facebook users who you are & what you do!
Do not put your hours of operation, locations or other details like that here, as there are other specific sections of the page for that info.
For example, if I were MassageLuXe right now, I'd immediately update my description on Facebook!
Beyond this section, you should optimize throughout the page settings. There is a section for a long description where you can add more detail about your business, goals, value, competitive advantage, etc. This is great search fodder!
And be sure to fill in the categories & sub-categories that Facebook provides for search. Just like with your website, the goal of your company background content is to be found by Facebook users!
3. Communicate your brand personality
While you need to be present on the social networks where your competition is, you should not sound or look just like them.
This means both being clear on the unique value YOU bring your customers — be it lower price, higher quality, more variety, more convenience, etc. — and having a brand personality.
Your brand might be humorous or silly or serious or helpful or encouraging. Whatever it is, communicate it consistently in your Facebook posts.
Let's look at some of the posts written by our massage landscape to see if we can determine the personality of the companies.
Immediately I see that "Hand and Stone" is trying to be the "helpful" brand, with posts about "we can help" and "did you know massage can help you sleep?"
Massage Heights, on the other hand, is more lively, fun & motivational with posts like "Founder's Keepers", "cute gifts" and "some morning motivation" for a great day.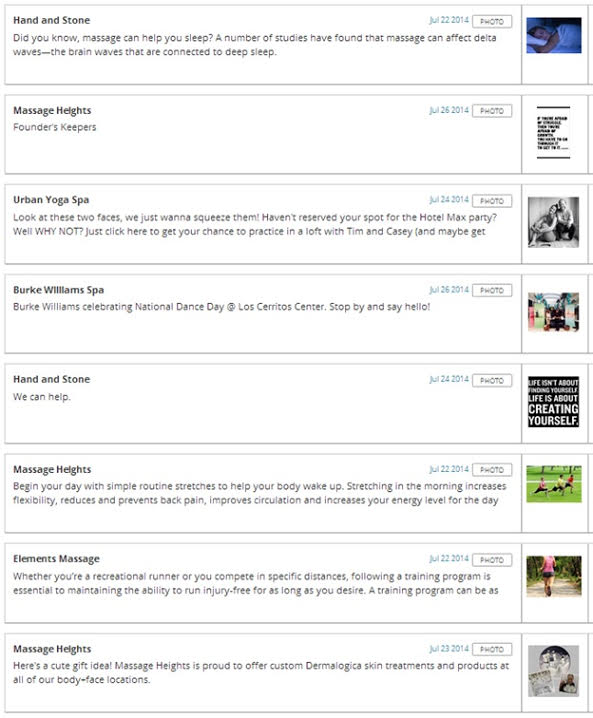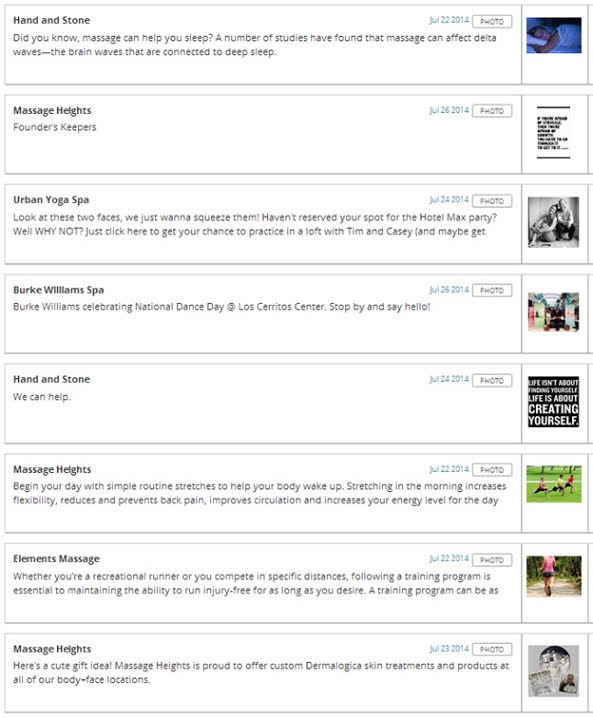 The key here is being consistent in your "voice" and being unique from the competition, so your fans look forward to your posts & know what to expect from your brand.
4. Build a strong fan base
You obviously need a base of Likes, followers or fans. But too often, there is overemphasis placed on the number of these followers.
It's much more important to have quality fans that actually use or would use your product or service, share your news, and engage with you virtually on social media, and hopefully, literally in your business as well.
There is no "right" number of followers. If you have a mailing list of say 500 or 1,000 people, then use the Facebook tool to invite those people to "Like" you on Facebook.
Assuming these people have opted in to engage with you at some point, it's realistic to assume that maybe half of those would take a sec to "Like" you on Facebook.
This blog post by social content marketing guru Jay Baer explains this more:
5. Create great content that engages
Another reason to be weary of hype around number of Likes is that this doesn't show whether or not these followers are active or engaged with you.
Getting someone to Like or follow your business once is a good start, but behavior that leads to revenue involves engagement. Are your followers sharing your content or liking specific posts or using the coupons/specials you promote on Facebook?
To prove this point, let's go back to our massage market landscape. If we look at pure follower numbers, we can see that Massage Envy has a huge follower base compared to the other companies. Not too surprising considering this is a national brand with locations in multiple places.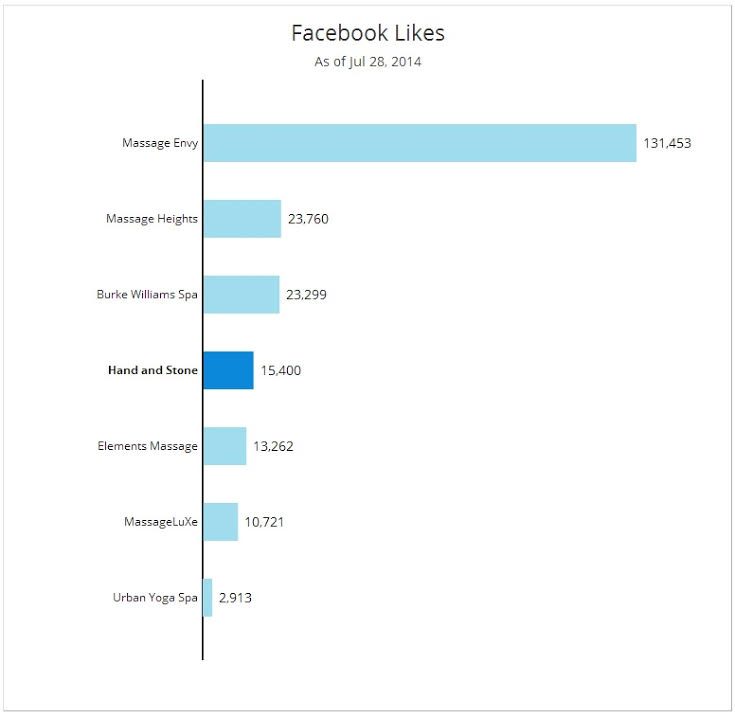 However, when you run a report for Total Engagement, the picture changes, and Massage Envy isn't really engaging with their audience, regardless of how big it is.
In fact, among the top 34 posts over the past 7 days, none are by Massage Envy. Instead, Massage Heights wins for the most engaging Facebook posts, with 13 of the top 34 posts.


These top social content analytics are also helpful to see what types of posts are driving the most engagement — photos, links or status posts — as well as what day of the week those most engaging posts were published.
As we see here, most customers are not thinking about massage on Mondays — but by Wednesday, they're ready!
Remember: you can learn from your competition and "steal" their ideas. If you find out photo-based posts relating to specific types of massage drive high engagement, then try a couple posts that follow that model. Using YOUR personality, of course.
Below, we can see the actual content that drove that engagement. Hand and Stone received the top 1 and 2 posts for this past week, again using that helpful, nice personality.
In addition to reviewing the most engaging posts, you could review all of the competitors' posts and your own to figure out what's working & not working & adjust your content strategy accordingly.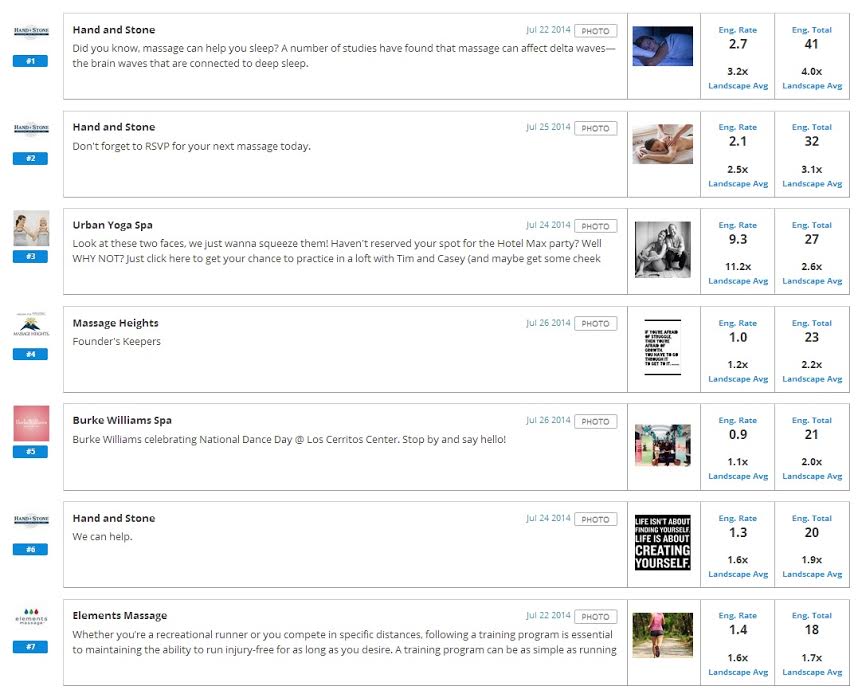 6. Measure & analyze what's working & not working
As with other parts of your business & marketing, you need to have clear goals with your social media & consistently measure your performance & adjust accordingly.
It's okay to have basic metrics like audience & activity, especially if you need to grow your follower base or increase your activity level, and measurement will enable you to show how you're improving with those areas. But make sure you're also measuring engagement, per the section above, as well as other metrics that prove how social media is driving business growth.
Every 2 weeks, I analyze how much web traffic is being driven to my site by social media channels, and how much of that traffic is actually converting to sign-ups. You could do special offers only for Facebook followers, and then measure how many of those turned into sales.
While marketing has become much more complex over the last few years, not to mention more data-driven, it's become more critical than ever to employ integrated marketing strategies. This means your social media must align, complement & augment all your other marketing initiatives, from couponing to advertising to email marketing & beyond.
All your marketing channels should build on each other to provide a consistent brand image, message & target customer relevance.
This is also true with your SEO.
Many people work to understand what keywords are driving the most quality traffic to their website, but they don't think about using those keywords in other channels. Using our massage therapy businesses again as an example, you can see which words are the most important, and competitive, in this market.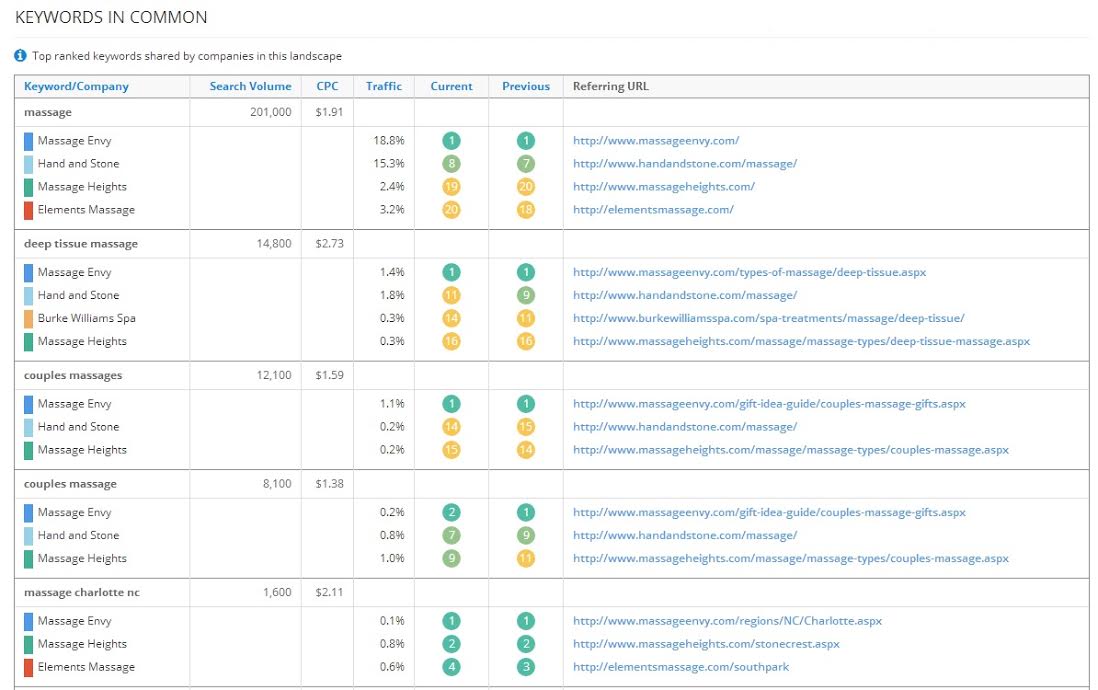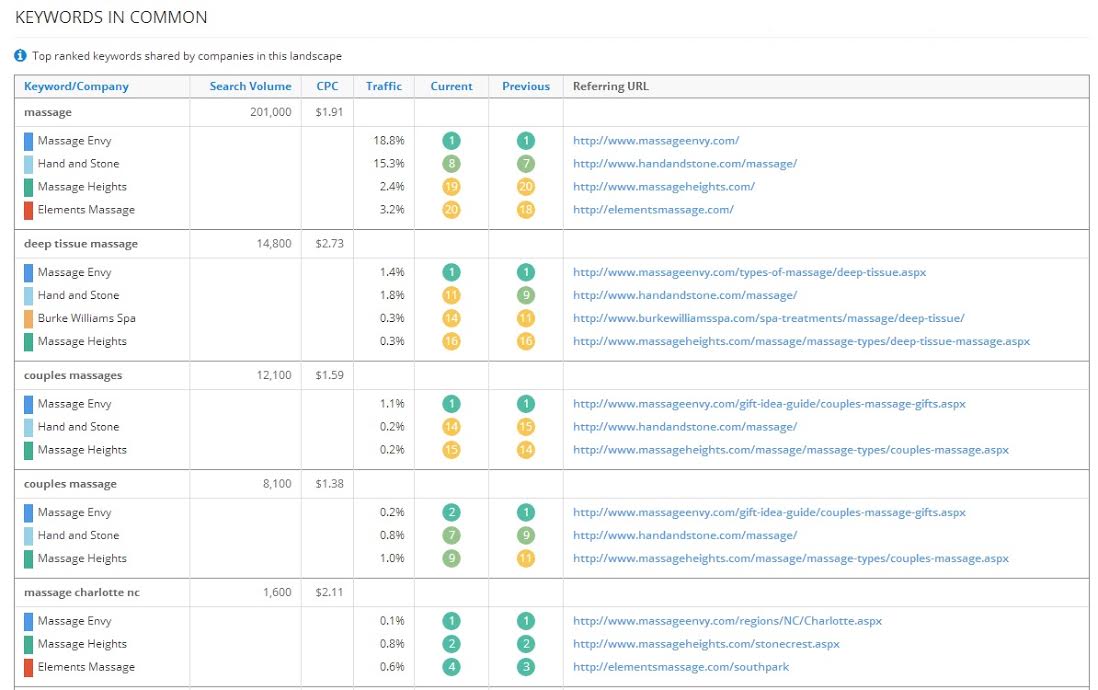 If this were you, you'd want to include these keywords throughout your marketing, in blogs, social media, press releases, online advertising, etc.
Use the entire marketing mix to build authority & brand equity around your business & these terms.
Beat Your Competitors Today
I'm a big believer in agile marketing, so as you implement these small business marketing ideas, do so in an agile way:
start small
measure
adjust
keep going
You can expedite the cycle by learning from other companies about their best practices on Facebook & other social channels.
By understanding your competitive landscape, you can also learn from your competitors' best practices and mistakes and use those to win customers and market share!
ABOUT THE AUTHOR
Margaret Dawson is Chief Marketing Badass for Rival IQ, which provides competitive analysis for smarter digital marketing. A 20-year tech industry veteran, Margaret is known for taking people, products and companies to the next level through creativity, awesome positioning and messaging, coaching and agile processes. You can find her on Twitter.