If the U.S. Won't Pay Its Teachers, China Will. Cindy Mi leans forward on a couch in her sun-filled Beijing office to explain how she first got interested in education. She loved English so much as a child that she spent her lunch money on books and magazines to practice. By 15, she was good enough that she began to tutor other students. At 17, she dropped out of high school to start a language-instruction company with her uncle.
If the U.S. Won't Pay Its Teachers, China Will
Today, Mi is 33 and founder of a startup that aims to give Chinese kids the kind of education American children receive in top U.S. schools. Called VIPKid, the company matches Chinese students aged five to 12 with predominantly North American instructors to study English, math, science and other subjects. Classes take place online, typically for two or three 25-minute sessions each week.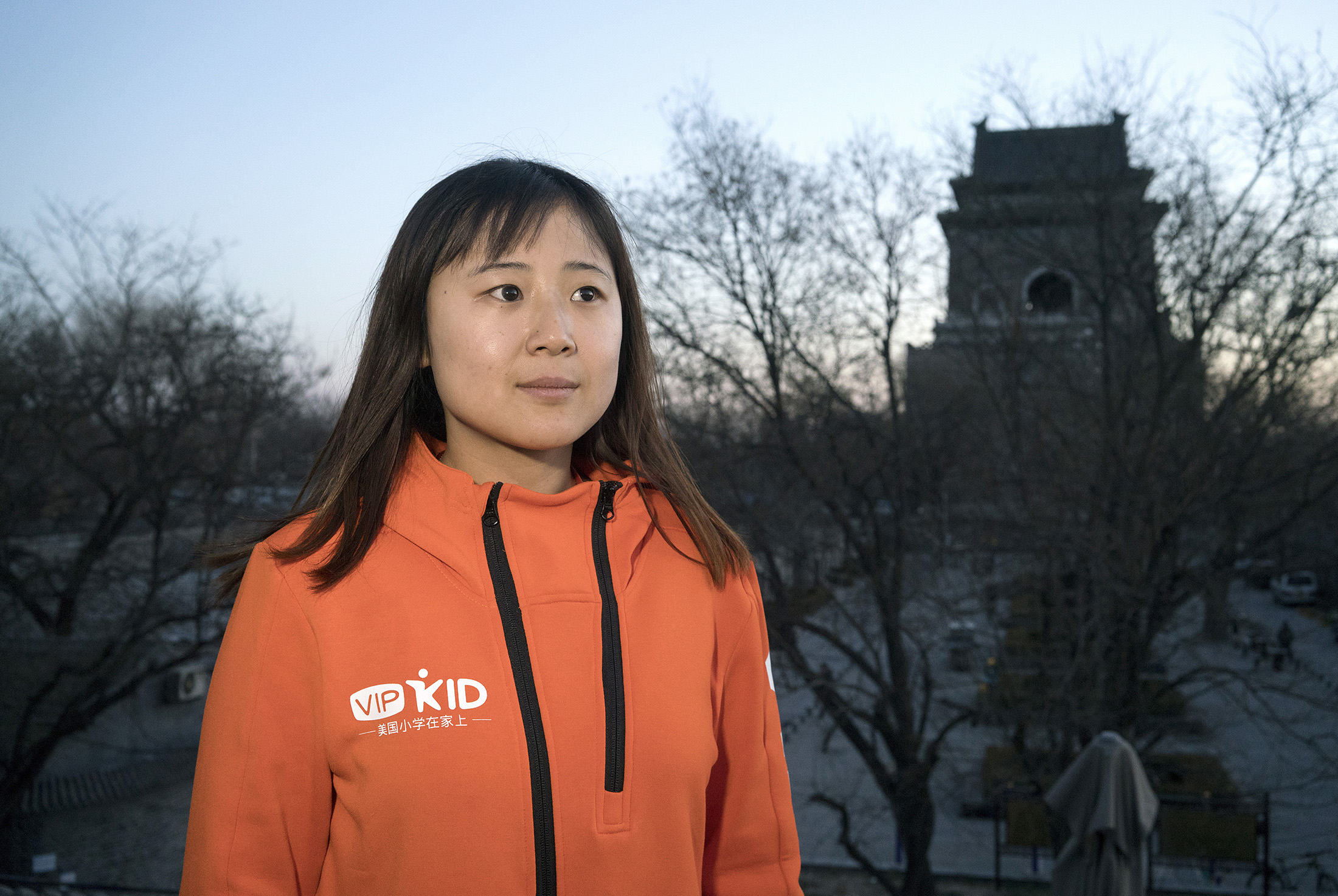 Mi is capitalizing on an alluring arbitrage opportunity. In China, there are hundreds of millions of kids whose parents are willing to pay up if they can get high-quality education. In the U.S. and Canada, teachers are often underpaid—and many have quit the profession because they couldn't make a decent living.  Growth has been explosive. The three-year-old company started this year with 200 teachers and has grown to 5,000, now working with 50,000 children. Next year, Mi anticipates she'll expand to 25,000 teachers and 200,000 children.
Over the years, education experts and traditional teachers have criticized online learning, arguing that nothing can duplicate the face-to-face interaction of a physical classroom. In China, parents are so bent on getting their kids the best education possible they're sometimes willing to try untested methods that may or may not provide high-quality education. Mi hired top people to help design VIPKid's curriculum and has recruited academic advisers from respected American universities, but she's mindful of the challenges.
"What keeps me up at night is not growth, it's quality," she says, wearing a bright orange workout top with her company's logo and name in large block letters. "We need to be responsible for the learning outcome."
VIPKid has big names betting on its prospects. The company has raised $125 million from firms including Sinovation Ventures, Northern Light, Jack Ma's Yunfeng Capital and Sequoia Capital China. Basketball legend Kobe Bryant invested and advises Mi. Sinovation, led by former Google China chief Kaifu Lee, funded VIPKid when it was just an idea in Mi's head and incubated her team at its Beijing headquarters for 15 months before product launch.
"We really felt education could be reshaped with the power of the Internet," Lee says. "The moment we met Cindy we knew we had to invest in her company."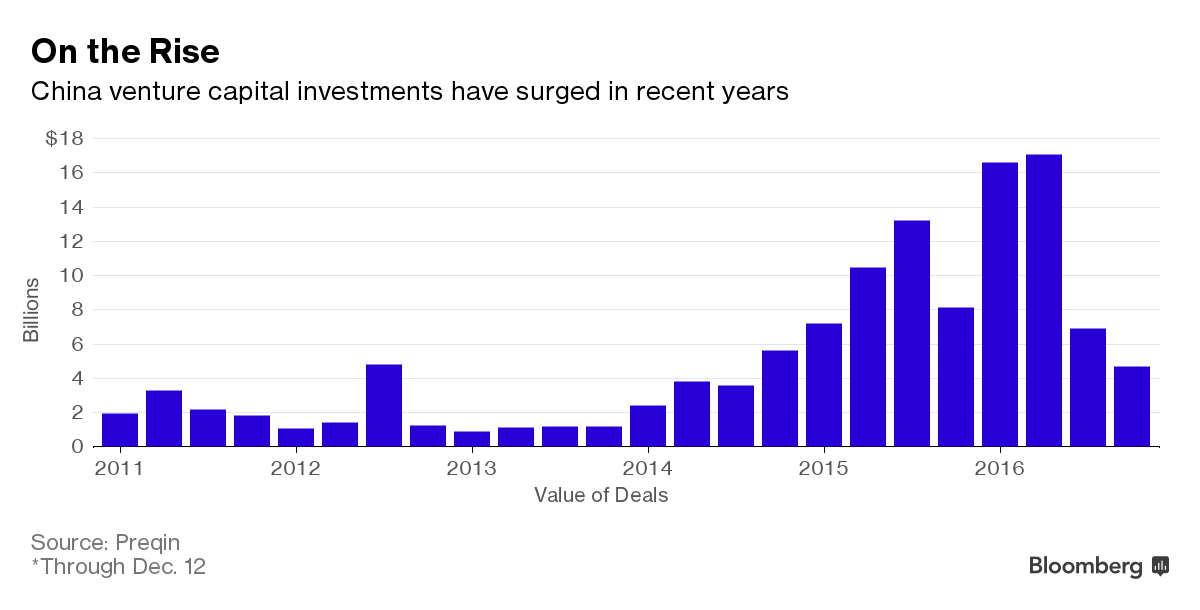 VIPKid's office sits in a former Taoist temple in the midst of a quiet hutong, a traditional neighborhood made up of narrow alleyways and run-down homes. The temple is on an axis that runs through the Forbidden City and, according to legend, traces the back of a dragon trapped beneath the ancient capital.
On a chilly December afternoon, employees spill through the doorway and squeeze along tables inches apart to work on coding and curriculum. Mi's office, crowded with a desk, couch and stuffed animals, looks out onto the old temple grounds. A guitar, which she is trying to learn how to play, sits in a corner.
Mi was born in Hebei, a northern province that surrounds Beijing, but then moved to Heilongjiang province, a remote northeastern region that borders Russia. At her new school, the math teacher took an instant dislike to the outsider and would never call on her. So one day Mi began reading a science-fiction magazine in class. The teacher grabbed the magazine, tore it into pieces and threw it in her face.
"She said, 'Get out of my classroom. You are the worst student in the universe,'" Mi says, then pauses for a few seconds to consider the memory. "I love skydiving, bungee jumping, extreme sports. There's only one nightmare that I have and it's of that teacher. Every couple years."
That experience convinced her that teachers have outsized influence on children's lives—for good and ill—and pushed her into education. She left high school before graduation to work with her uncle at a traditional tutoring school, with brick-and-mortar classrooms. She helped open a half dozen learning centers in Beijing over about a decade.
After years of hard work, she dreamed of making a bigger impact. She went back to school and studied at Cheung Kong Graduate School of Business and spent a semester at Cornell University in Ithaca, New York. In 2013, she pitched the idea for VIPKid to Lee, and his firm invested that December. Mi and her three co-founders moved into Sinovation's offices and spent 15 months working on the software and curriculum.
There are many options for learning online, of course. Rosetta Stone Inc. offers inexpensive classes where students study languages at their own pace and never interact with live teachers; China Online Education Group, known as 51Talk, began connecting Filipino instructors with Chinese students for English classes online four years ago — and went public in June. It has 102,000 students across all ages taught by 8000 teachers.
TutorGroup Co., which works in China under the VIPABC brand, boasts Singapore's Temasek Holdings Pte as well as Goldman Sachs Group Inc. among its backers. The company, which hit a $1 billion valuation in late 2015,  offers maths and language tutors with many North American instructors and says it has spent almost two decades in the market.
Mi's goal was to deliver not the cheapest way to study, but rather the most efficient way to learn for the time and money invested. She knew Chinese parents would pay if they saw their children actually learning, rather than wasting time with poor teachers or programs. Most parents have a single offspring because of the country's one-child policy, they value education and they want their child to be able to work beyond China. If the U.S. Won't Pay Its Teachers, China Will
Mi brought in Lane Litz, who had worked in three countries on how children learn second languages, to lead development of a standardized curriculum so the company would have control over what was taught. The team worked on easy-to-use software that would allow students in China to learn from native English speakers a half world away with real-time audio and video links.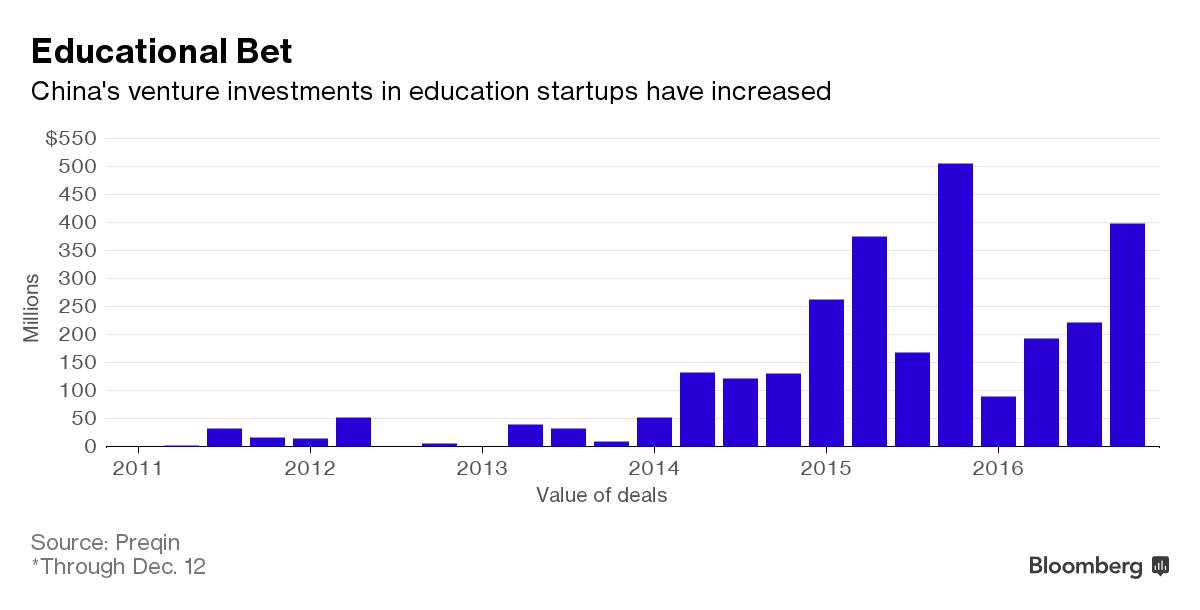 The software works a bit like corporate video-conferencing. The student and teacher appear in boxes on the right-hand side of the screen; images and words appear on the left. A typical 25-minute lesson has about 30 slides and the curriculum builds from session to session so a child can develop their vocabulary and fluency.
Parents buy a package of lessons and their children can then select which teachers they want. A block of 72 classes is about $1500, or about $21 each.
Douglas Gao, 10, began studying English as part of an early trial group in 2014 and has kept going. His father, Victor, says the price is comparable to a group English class his son took, but those were inconvenient and ineffective. Now Douglas is speaking in complete sentences and his six-year-old brother has started the program. If the U.S. Won't Pay Its Teachers, China Will
"Of course face-to-face is the most effective method for learning, but kids these days are very computer-friendly so it's very easy for them to pick it up," the father says. "On the other side of the computer are very experienced teachers. They really know how to deal with these kids and how to get their concentration."
VIPKid recruits teachers through referrals and social media and gets 10,000 to 20,000 applications a month. Prospective hires are tested and screened and about one out of every 10 applicants are approved, Mi says. Successful ones take VIPKid's training courses for about a week and need to pass a final test before starting work. They're not required to have degrees in education, but do need a bachelor's degree and some teaching experience.
VIPKid says most of its instructors are experienced current or former teachers.
April Baker, a 42-year-old single mother in Pennsylvania, started teaching with VIPKid in August, in part because of financial pressures from her divorce last year. She teaches most days between 7 a.m. and 9 a.m. and often again from 8 p.m. until midnight. The $20 to $22 an hour she makes helps supplement her income as a fitness instructor for seniors, and the flexible hours allow her to look after her kids. If the U.S. Won't Pay Its Teachers, China Will
"It feels so freeing," says Baker, who has undergrad and graduate degrees in education and worked in the field for about 10 years. "The only issue is the time zone is a challenge."
Kristie Kellis, a 41-year-old from Minnesota, started teaching with VIPKid a few months ago. She now works 40 to 45 hours a week, usually from 3 a.m. to 8 a.m., in addition to her day job teaching at a local university. She's paid about $21 an hour as long as she works at least 20 hours a week, and then gets bonuses for teaching more hours or during holidays. She says it works out to about $4,000 a month plus bonuses.
"This rivals what I can make at a university," says Kellis, who has a bachelor's degree in child psychology from the University of Minnesota.
Both Baker and Kellis say it's refreshing to work with eager kids and supportive parents. Kellis had one six-year-old girl who was shy at first, but became comfortable speaking and reading English in two months. The key: The girl's mother worked with her on sounding out words from letters, instead of memorizing like Chinese do with characters. "Her mom was exceedingly helpful," Kellis says, adding that most students take five to six months to learn decent English.
The teachers also appreciate the support they get from VIPKid. The company sends out weekly videos with tips on new techniques instructors have found useful and stories of success with students. The company has a team of "firemen" who help with technology problems.
VIPKid offers regular incentives for teachers too, including computer gear and T-shirts. Kellis won a trip to Beijing next month to meet Mi, her employees and students. "They put so many of their resources back into the teachers," she says.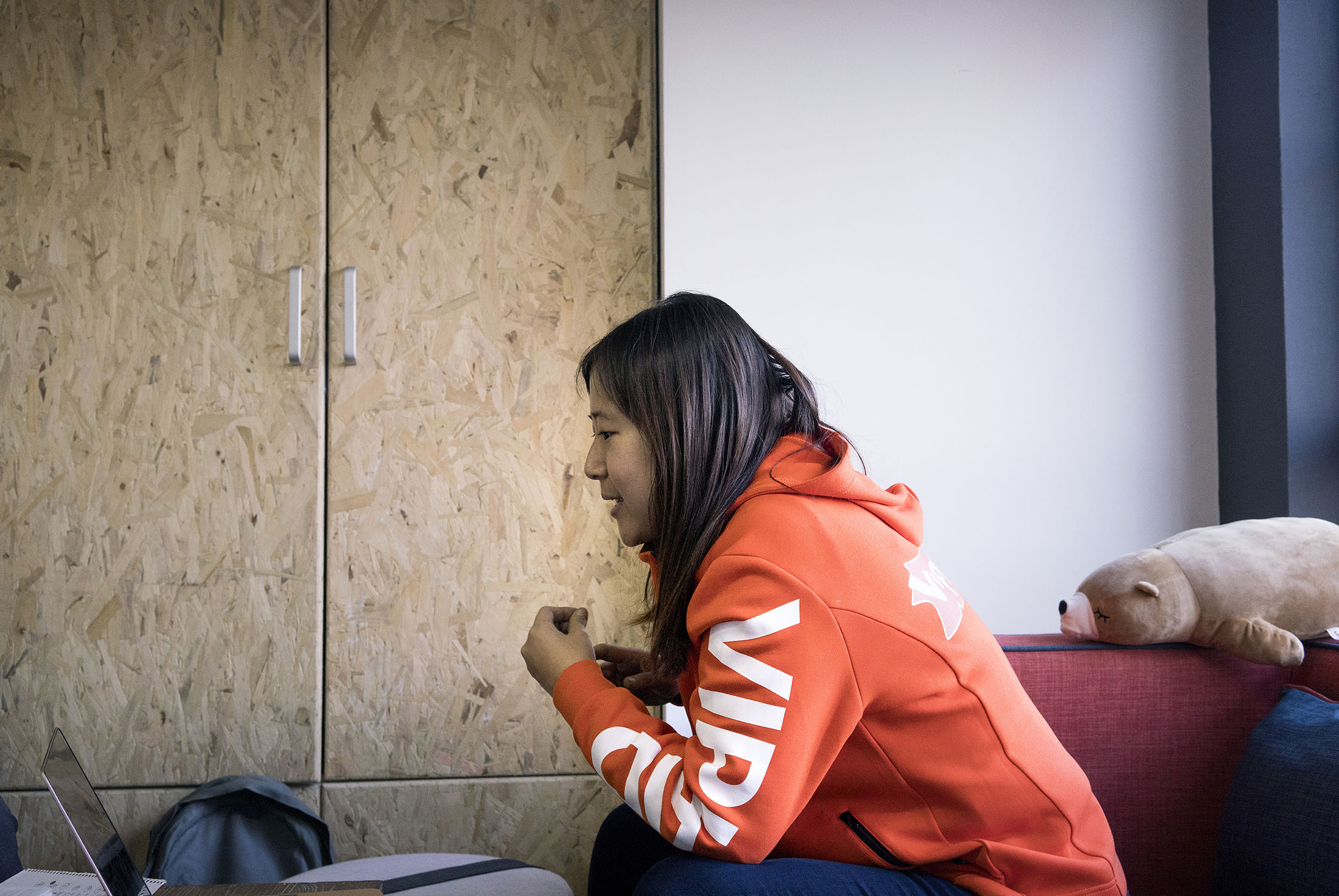 Mi says she hasn't begun to think about an IPO because there is so much work to do in managing growth. She thinks it may be only three or four years before VIPKid has a million students, a dizzying prospect for a three-year-old enterprise.
She sees an opportunity to improve the effectiveness of education with such an enormous group of students and she's set up a research institute to work on developing best practices. Robert Hutter, managing partner of the Silicon Valley venture firm Learn Capital, is chairman of the group, and its advisers include professors from Stanford, Harvard and the University of Southern California. "The sheer scale of this presents the opportunity to examine theories that you couldn't look at in your own lab," says Bruce McCandliss, a professor at Stanford's Graduate School of Education who will help develop the research agenda.
VIPKid is already refining its techniques by recording lessons on video and crunching data on which strategies work best. They've found students learn more effectively if they can pick teachers that suit their aptitudes and study examples that capture their interest.  "It's just now that we are able to see real gains in efficiency," says Hutter, who also put money into VIPKid. "Depending on the current choices for learning, you could see 5x or 10x improvements in the time spent per unit of education."
A looming challenge for Mi is that her business has few barriers to entry and others see the opportunity too. 51Talk began offering a similar service for Chinese kids over the summer and is recruiting teachers in the U.S. Its customers can now choose between a premium service with American instructors or regular classes with Filipinos at about $5 an hour. "The adoption rate for online education, especially online English education, has been tremendous," says Jimmy Lai, 51Talk's chief financial officer. "So we believe even with three major players in the marketplace we're going to continue seeing strong growth." If the U.S. Won't Pay Its Teachers, China Will
Back in Beijing, the sun is beginning to set in the hutong. It's the end of the day for many people, but Mi won't finish any time soon. "I usually work until about 2 a.m., sometimes 4 but usually about 2," she says. "We have so much to do."
Assistance by Peter Elstrom and David Ramli