Reasons Africa's First Female President Will Be Missed – Ellen Johnson Sirleaf had the great honor of being Africa's first female President and as she prepares to say goodbye to the Liberian Presidency in a matter of days, she reminded the world of her special place in history as she gave a speech at the 72nd United Nations General Assembly. We truly consider the speech Sirleaf's goodbye.
See Also: Buhari's UN Speech: 5 Things He Said That Nigerians Wish He Practiced
The President has always been very well spoken and so Sirleaf's goodbye was a thoughtful speech that touched on how far Liberia has come under her leadership and what the world has to look forward to in the country even as she steps down. In her words;
"Today, I address you for the last time as I bring to closure my two terms of elected office. Liberia is just 22 days away from historic legislative and presidential elections. It will mark the first time in 73 years that political power will be handed over peacefully, and democratically, from one elected leader to another. This paves the way for the next generation of Liberians to lead the country into the future."
Reflecting on Sirleaf's goodbye here are a couple of reasons she will be greatly missed.
She Is An Inspiring Leader
Ellen Johnson Sirleaf was Africa's first female President and also consequently one of the continent's most educated leaders. She has stood as an example to girls around Africa on the possibilities that are available to them.
During Sirleaf's goodbye, she recounted that eleven years ago, on September of 2006: "I stood before this august body as the newly elected president of the Republic of Liberia, and, the first woman to be democratically elected as head of State on the African continent."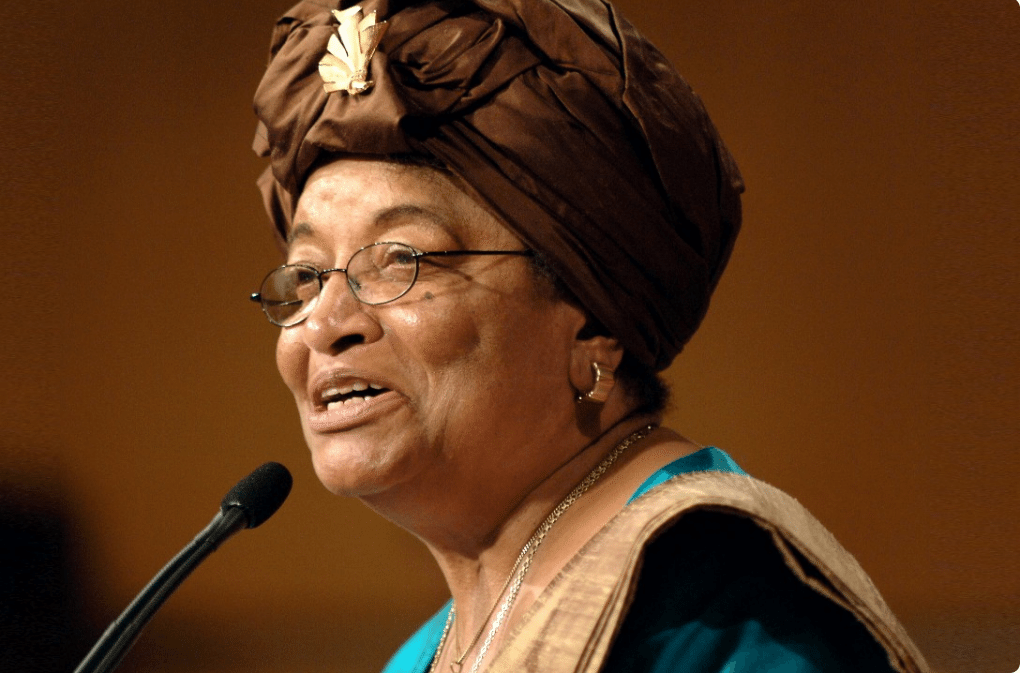 She has been awarded numerous honorary Doctor of Laws degrees from US institutions, including from Marquette University (2006), Indiana University (2008), Brown University (2008), Dartmouth College (2008), Yale University (2010), and Harvard University (2011).
To date, she has won the 2011 Nobel Peace Prize, 2007 Presidential Medal of Freedom and the 2012 Indira Gandhi Prize for Peace, Disarmament, and Development. In 2014, President Sirleaf was listed as the 70th most powerful woman in the world by Forbes magazine.
She Worked Hard For Liberia
Sirleaf came in after a period when Liberia was experiencing 25 years of development reversal that included a 15-year civil war. She had a lot to tackle and as she reminded us in her goodbye, her government has made great progress and laid the foundation for the next democratic government.
During Sirleaf's goodbye she gave a run down of some of the things her government has been able to achieve;
"We have reshaped the Armed Forces of Liberia and the Liberia National Police, professionalized our customs and immigration services and small Liberian Coast Guard. We are proud to report that since the formal turnover of the security responsibilities to the Government, Liberia has remained stable, peaceful and secured."

"We transformed the economy from a growth rate of less than zero to more than 8.7% in 2013, until the health crisis and plummeting commodity prices brought a downturn to our economic recovery. Liberia has adjusted, we are resilient, embracing diversification. Our focus today is towards strengthening the agriculture sector for value addition, and infrastructure development with emphasis on roads and energy for industrialization."
In simpler terms, President Sirleaf and her government have helped reduce the national debt, transformed the healthcare and education systems, engendered the entrepreneurial spirit in the youth and strengthened the rule of law to tackle systemic corruption
See Also: Kenya's October Election: Another $117 Million To Be Spent
She Is A Believer In Democracy
There is no reason to fear that President Sirleaf will want to hold on to power for even one minute after her mandate expires. Although she is not the only African President to not succumb to the sit tight syndrome, Africans will never complain about too many good examples of leaders who respect democratic principles.
She boldly declared that "The election will signal the irreversible course that Liberia has embarked upon to consolidate its young, post-conflict democracy. Indeed, democracy is on the march in Liberia and, I believe, on an irreversible path forward on the African continent."
The International Community Respect And Trust Her
President Sirleaf herself said that Liberia's success story was a success story of the world community. According to her;
"Liberia's transformation was powered by a world community that made a shared commitment to deliver peace to a country, and a sub-region, beset by civil conflict and cross border destabilization. The UN and its partner nations were of one mind, and from that global unity, a new Liberian democratic state was born. Liberia is a post conflict success story. It is your post conflict success story,"
The world community would never have partnered with Liberia if they did not trust President Sirleaf and her leadership. From a pariah state, Liberia has gradually regained the confidence of nations and even risen to assume leadership roles in regional bodies, specifically ECOWAS and the Mano River Union.
President Sirleaf and her Guinean counterpart, President Alpha Conde where the only two African leaders to share a luncheon Table with President Trump joined by the UN Secretary, General, António Guterres and Japanese Prime Minister of Japan, Shinzo Abe, among others.