<![CDATA[
It is generally believed that Muslim women live oppressed lives and therefore cannot excel in any field. Contrarily, they have made a mark for themselves in nearly every profession. There are great Muslim female doctors, engineers, lawyers, and artists all over the world. No wonder, numerous significant achievements have been made by Muslim women in the field of sports as well. They have participated and achieved success in every sport in the world. Although they had to face several difficulties in the beginning, still they went against all norms and became victorious. It was all possible due to their unwavering willpower and dedication.
Here is a list of top 10 greatest Muslim female athletes. They have been competitive athletes and are indeed great champions.
10. Sara Khoshjamal Fekri, Iran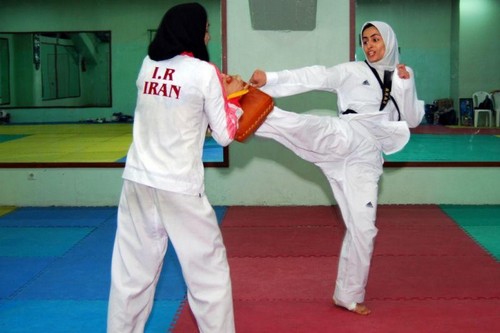 Sara, 28, is the first Iranian female taekwondo Olympic qualifier. She competed at the 2008 Summer Olympics and reached till quarter-finals. She has won three gold medals and one silver medal in many International Taekwondo Tournaments. Besides these, she has also won numerous medals in various Asian Taekwondo Tournaments.
9. Rubab Raza, Pakistan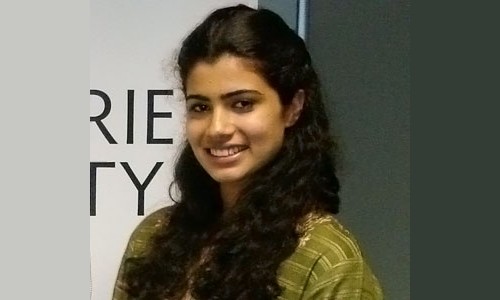 Rubab, 25, is the first Pakistani female swimmer who participated in Olympics. She was just 13 when she competed at the 2004 Summer Olympics in the 50m freestyle swimming and became the youngest sportswoman to represent Pakistan in any Olympics event. She has accomplished several national titles and has been successful at Asian swimming tournaments. She won a gold medal at Islamic Women's Solidarity Games and two silver medals and one bronze in the ninth South Asian games.
8. Sheikha Maitha Bint Mohammed Bin Rashid Maktoum, UAE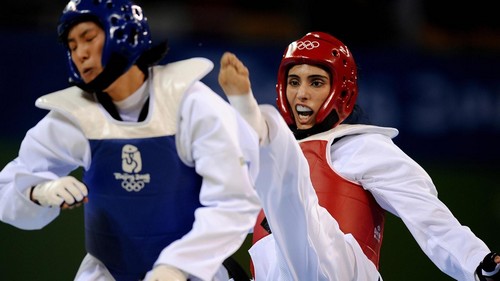 Sheikha, 36, is a martial arts athlete and the daughter of the ruler of Dubai, Sheikh Mohammed-bin-Rashid Al Maktoum. She won the Over 60 kg karate silver medal at the 2006 Doha Asian Games. She has competed in taekwondo at the 2008 Olympics in the 67 kg category for women. She was the first Gulf woman to be the flagbearer for UAE at the Olympics. In 2008, she was ranked 17th in the list of the "20 Hottest Young Royals" by Forbes magazine.
7. Sheikha Latifa Bint Ahmed Al Maktoum, UAE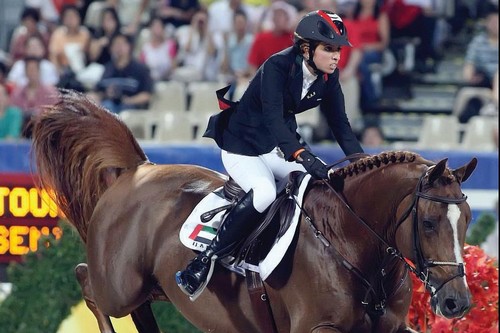 Next on our list is another royalty, i.e. the cousin of the ruler of Dubai, Sheikh Mohammed-bin-Rashid Al Maktoum. Sheikha, 25, is an equestrian champion particularly, known for show jumping and has won numerous medals at regional equestrian championships. She won team bronze medal at the 2006 Doha Asian Games. Later on, she bagged an individual silver medal at the 2010 Asian Games. She also competed in the 2008 Olympics.
6. Kiran Khan, Pakistan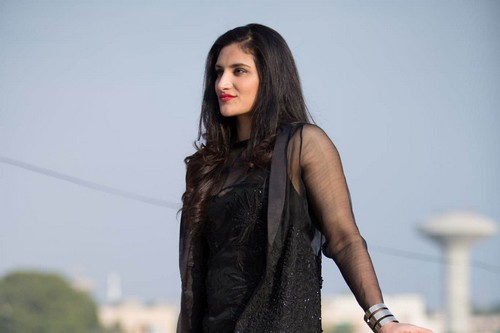 Kiran, 27, has the honour of being the only female swimmer to win a gold medal for Pakistan in an international event. She first came to national attention at the 28th Pakistan National Games in 2001, where she won seven gold medals, three silver medals and three bronze medals. She has also represented Pakistan in SAF Games, Asian Games, Commonwealth Games and Summer Olympics of 2008, and performed really well. She was able to win a total of 16 medals, including silver and bronze, during these events. She was finally able to bag the gold medal in the 2007 South Asian Swimming and Water Polo Championship.
5. Nawal El Moutawakel, Morocco

Nawal, 54, has the distinction of being the first ever Muslim woman to win a Gold Medal in Olympics She went against all the odds and became victorious. She participated in the 400m hurdles race at the 1984 Summer Olympics. She bagged two golds in the Mediterranean Games in 1983 and 1987. She was one of the eight bearers of the Olympic flag at the 2006 Winter Olympics. Moreover, she carried the Olympic torch through the London Olympics in 2012.
She was also the first Muslim woman to become a member of the International Olympic Committee, in 1998. In 2007 she became the Minister of Sports in Morocco. She achieved the Laureus Lifetime Achievement Award in 2010. Since 2012, she is the Vice-President of the International Olympic Committee.
4. Roqaya Al Gassra, Bahrain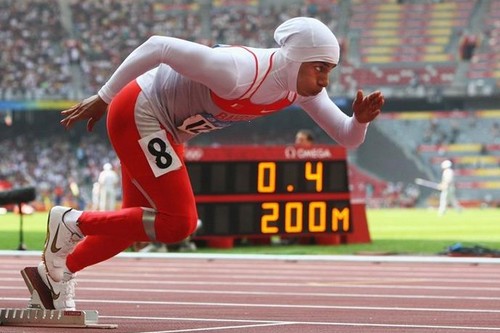 Roqaya, 34, was the first Bahraini woman to participate in Olympics. She made history when she became the first Muslim woman to wear hijab at Olympics. She competed in the women's 100 metres sprint at the Olympics in 2004 and 2008. She was the flag bearer for Bahrain at the 2008 Olympics. She was the first woman to win an athletics race at the West Asian Games competing in the 100m at the 2005 edition.
She has won two gold medals in Arab Athletics Championships. She has bagged a gold medal, three silvers and a bronze while competing in a number of Asian Indoor Championships and Asian Games. She retired from International Sports in 2009.
3. Rania Elwani, Egypt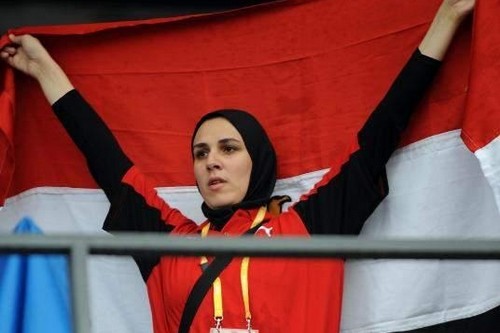 Rania, 39, got the title "The Golden Fish" by the media because of her outstanding record in swimming. She is among the 11 best swimmers in the world in the 100m freestyle race. In 1992, she was named the rising Arab star by BBC. She trained for 17 years at El-Ahly Sporting club. She has been winning championships since the age of 8. Moreover, she has participated and made great achievements in many African, Mediterranean and Arab Games. She won two gold medals at the Mediterranean Games. She has won 77 medals at the national level.
She represented Egypt three times at 1992, 1996 and 2000 Olympics. She retired from swimming at the age of 22 in 2000. In 2004, she joined the International Olympic Committee. In 2010, she retired from swimming and became a member of the Athlete Committee of the World Anti-Doping Agency (WADA). She is the founder of the Egyptian Olympians Association and Technical Supervisor for the Egyptian National Swimming Team. She strongly advocates peace through sports and is extremely active in finding solutions to the development issues in her region.
Apart from being a swimming champion, Rania is also a doctor specialized in obstetrics and gynaecology. Presently, she is a visiting physician in obstetrics and gynaecology, at Ain Shams University Hospital, Egypt. In 2015, she was appointed as a Member of Parliament by the Egyptian President Abdel-Fattah El-Sisi.
2. Hassiba Boulmerka, Algeria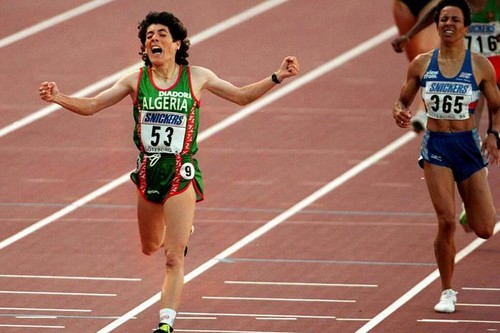 Hassiba, 48, is a former middle distance athlete. She was the first Algerian and Arab woman to win an Olympic gold medal in the middle distance running. She got serious about running at the age of ten, specializing in the 800 and 1500 metres. She was very successful in regional and national races. She was the first African woman to win an Athletics World title at the World Championships in 1991. She bagged gold medals in the 800m and a 1500m event at the Mediterranean Games held in 1991 and was also able to defend both the titles two years later.
She competed in the Olympics twice, in 1988 and 1992. She started receiving death threats while preparing for Olympics and it became too dangerous for her to train in her own country. However, she didn't give up and furthermore was able to get an Olympic title in 1992, after a stunning victory. She became the second Muslim woman ever to win an Olympic gold. Later on, she won a bronze medal at the 1993 World Championships and her second world title in 1995. She announced her retirement from sports in 1997. Afterward, she got elected to the Athletes' Commission of the International Olympic Committee. Currently, she is a successful business woman in Algeria.
1. Laila Ali, USA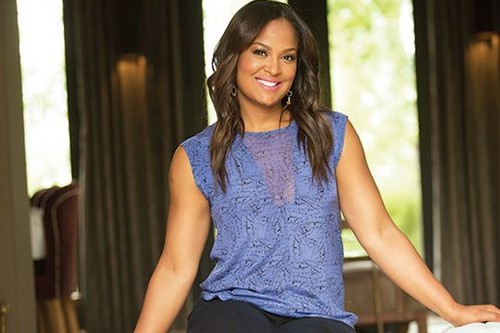 The Muslim female athlete who made it to the top of our list is none other than Laila Ali, the daughter of the legendary heavyweight champion, Muhammad Ali. She is a former professional boxer who holds an exemplary record of a 24-0 throughout her boxing career. She was just 18 when she started boxing. Before that, she was a manicurist and owned a nail salon. She was an unbeaten and triumphant boxer and set an extraordinary example in female boxing history. Her various achievements include the World Boxing Council, Women's International Boxing Association, International Women's Boxing Federation and International Boxing Association female super middleweight titles and the IWBF light heavyweight title.
She has made many television appearances in various TV shows and music video. She also co-wrote a book with David Ritz, called 'Reach! Finding Strength, Spirit, and Personal Power', to motivate and inspire young people. Later on, she turned into an entrepreneur and now, owns a line of make-up and beauty products.
Undoubtedly, these women have shattered the stereotypes and paved the way for other Muslim women wanting to take up sports. They are outstanding athletes who gained success and fame through their commitment and hard work. They proved that nothing is impossible if you stay focused and are willing to do anything for it. They are definitely a source of great inspiration for everyone.
Author Bio:
Lisa Zahran is a writer and copywriter who has worked with New York Times bestselling authors and personal development organizations such as Productive Muslim and Mindvalley. As CCO at Quran Academy, she's authored a transformative ebook that can help make Quran memorization easier and more meaningful in your daily life. Experience this ebook plus a 14-day trial of Quran Companion for free today.
]]>