Top 10 highest paid footballers in 2018. Football is one of the most watched sports around the globe. The beautiful game boasts a gigantic number in terms of viewership which results in a mammoth influx of money in the sport. The giant sums are responsible for making the clubs richer who, in turn, are able to afford the jaw-dropping wages they pay their players.
Following the transfers in January, Spanish tabloid Marca (via the Daily Mail) has released an updated list of the highest paid footballers in the world. Without further ado, let's have a look at which players have made it to the top ten list.
---
#10 Graziano Pelle (Shandong Luneng)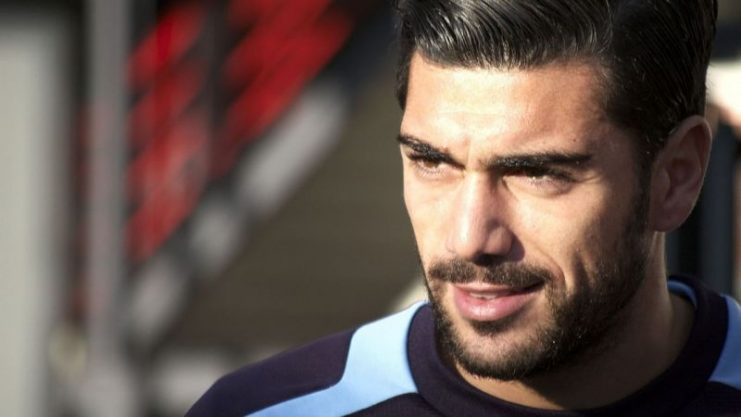 Chinese outfit Shandong Luneng paid a fee of £12 million to bring Italian marksman Graziano Pelle to the Super League from Southampton in 2016. His £300,000-per-week wages placed him fifth on the list of highest earners in soccer back then.
According to Marca, the Italian currently earns £15 million every year.
The mammoth salary was more of a fortune than an improvement, considering his £80,000 per week wages at Southampton. Pelle joined the likes of Hulk, Nicolas Anelka and Oscar at China, proving how the Asian country had ousted the likes of Russia and the Middle East as the premium destination for players in search of big paychecks.
#9 Paul Pogba (Manchester United)
Manchester United emptied a considerable number of coffers in the summer of 2016 when they forked out £89 million to bring Paul Pogba back to England from Juventus. The gigantic sum made the Frenchman the most expensive footballer back then.
Paul Pogba bags the highest salary at the moment of £15.4 million per year in the Premier League as per Marca's figures.
His first season after returning didn't pan out as good as he might have expected, after receiving stick for his below-par performances. However, the 24-year-old has silenced his critics this season with awesome performances for United this season.
The importance of his presence cannot be undermined, considering how the Red Devils underperformed in his absence. Since his return, Manchester United seem to be back to their former best and are gunning for glory once more.
#8 Kylian Mbappe (Paris Saint-Germain)
French sensation Kylian Mbappe is a newbie who made this list following his loan move from Monaco to Paris Saint-Germain last summer. He currently earns £15.9 million per year, under his new contract with Les Parisiens.
Mbappe grabbed the Golden Boy award in 2017, beating countryman Ousmane Dembele and Marcus Rashford to the title. At the Parc Des Princes, he has successfully replicated his form with 15 goals and 11 assists in 27 games to date.
The prodigal Frenchman man is an indispensable part of a devastating trio alongside Neymar and Edinson Cavani. With him churning out dazzling performances week in week out for the club, PSG certainly won't hesitate in triggering his £166 million buy-out clause next summer.
#7 Hulk (Shanghai SIPG)
Brazilian striker Hulk has been a constant presence amongst the world's highest earners in soccer. He joined Chinese outfit Shanghai SIPG for a £45 million fee in 2016. His transfer from Zenit St. Petersburg was the highest Asian transfer back then, broken by the arrival of his international teammate Oscar to China.
The 31-year-old currently merits an annual income of £17.6 million according to the Spanish tabloid Marca.
Hulk has taken the Chinese Super League by storm, netting 34 times in 52 games for the club in all competitions.
In 2017, the Brazilian forward expressed his dream to play in the Premier League, citing the competition in England as the major factor triggering his desire. However, it remains to be seen whether any of the Premier League heavyweights can succeed in bringing him back to Europe.
#6 Cristiano Ronaldo (Real Madrid)
A complete shocker! Cristiano Ronaldo being one of the two dictators of the generation alongside Leo Messi has failed to breach even the top 5 of this list according to the figures displayed by.
The Portuguese giant is currently serving his contract that is set to expire in 2021. As of now, he earns £18.5 million per year, according to the tabloid.
Ronaldo is currently undergoing the worst patch of his career, having scored only six league goals after returning from the five-match ban in September last year.
He has reportedly demanded the Madrid hierarchy to offer him a salary that equals Lionel Messi's figures at the Nou Camp. However, it remains to be seen whether Florentino Perez gives in to his talisman's demands despite his lacklustre performances for the club.
#5 Ezequiel Lavezzi (Hebei China)
There were rumours about his salary being close to about £700,000, but the club later confirmed the figures he would earn in his two-year deal.
In his first season with the club, Lavezzi failed to justify his price tag, appearing just 10 times and scoring no goal. However, in his second season, he has redeemed himself with 20 goals in 27 games.
#4 Oscar (Shanghai SIPG)
Oscar caused an outrage when he chose to join Chinese outfit Shanghai SIPG in a £60 million deal in 2016 from Chelsea. His move to the Chinese club is the most expensive Asian transfer of all time.
Also, he was the most expensive player signed in January; a record that was surpassed by Phillipe Coutinho following his move to Barcelona this month.
He was criticized for choosing a lower league at the prime age of 24 when he could have easily played for Europe's elite clubs after leaving Chelsea. At present, he earns £21.1 million annually according toMarca and is the fourth footballer on this list who plays for a Chinese club.
#3 Alexis Sanchez (Manchester United)
Alexis Sanchez's swap deal with Henrikh Mkhitaryan going the other way has been the steal of the season. Apart from the rise in his popularity worldwide as a Man United no.7, the 30-year old is set to become the Premier League's highest earner with £450,000 per week wages. He will bag a sum of £23.4 million once he completes his move to Old Trafford, according to Marca.
Alexis Sanchez was an integral part of Arsenal's FA Cup-winning campaigns in 2015 and 2017. In season 2016-17, the Chilean was at his imperious best, netting 30 times in 51 games for the Gunners.
Sanchez is expected to replicate his stunning form for Arsenal at Old Trafford. It remains to be seen whether he can justify the gigantic wages he will be earning at Manchester United.
#2 Neymar (Paris Saint-Germain)
Paris Saint-Germain broke the world transfer record when they snatched Neymar from Barcelona's clutches for £198 million last summer. Considering the avalanche fee they paid for him, it is but natural to see him amongst the top three highest earners in the game right now.
According to his latest contract, Neymar will earn £31.7 million annually at the Parc Des Princes.
Following his move to the French champions, Neymar has shrugged off the pressure of his world record move and is running riot in France at present. He has 24 goals and 14 assists in just 23 appearances, justifying each and every penny PSG forked out to land him.
Should his dazzling performances continue, why, the Selecao skipper might as well break the Ronaldo-Messi duopoly at the Ballon d'Or ceremony this year.
#1 Lionel Messi (FC Barcelona)
Lionel Messi became the ultimate earner in the game following Carlos Tevez's move back to Boca Juniors this January. Every Barca fan might have breathed a sigh of relief when the Argentinan signed a contract extension at the end of last year. Under his new contract, until 2021, the Argentine merits an annual sum of £40.5 million, according to Marca.
There's no doubt Leo Messi performs equally well in every game and deserves the money he earns at the club, but the 30-year old has also been ranked as the most overpaid footballer in the world at present.
A research done by IJCSS( International Journal of Computer Science in Sports) has claimed that Messi deserves exactly the half of what he currently earns at the Nou Camp.
Right now, the Argentinian skipper is on course of winning the league title with Barcelona and will also be an integral part of the club's bid to win another UEFA Champions League title this year.