Vladimir Putin Possibly The Richest Person Alive. On most World's Richest lists, Bill Gates and Jeff Bezos are right at the top. Able to change the way the world does business, their net worth numbers are in the tens of billions. But there may be one man who is actually richer than both these titans of industry, and his name is Vladimir Putin.
Vladimir Putin Possibly The Richest Person Alive Now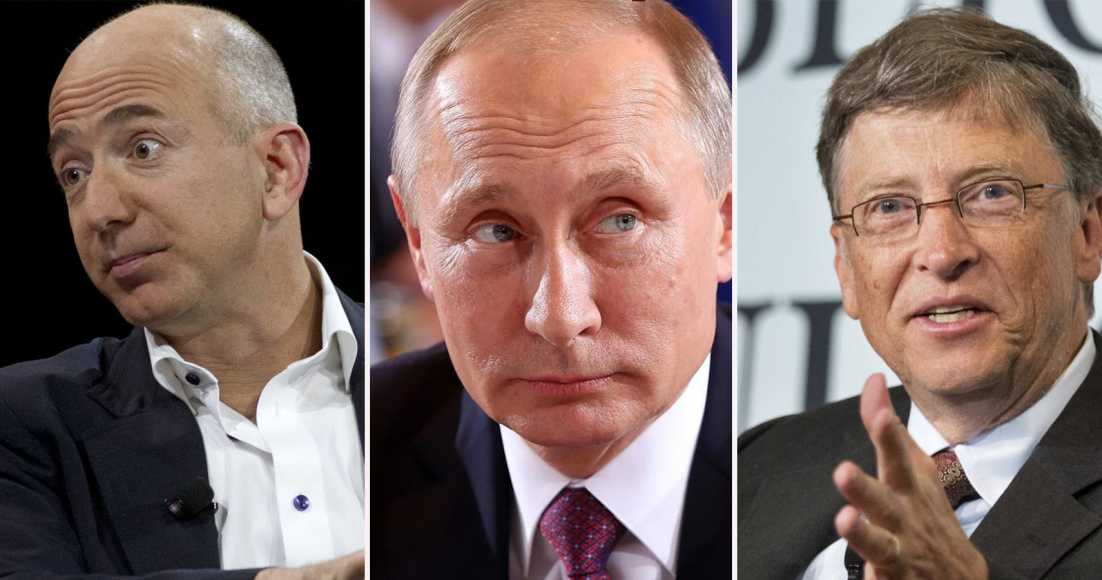 As early as last week, Bill Browder, Chief Executive Officer of Hermitage Capital Management, told US senators that Putin's wealth could beat out both the top US businessmen combined.
RELATED: AMAZON FOUNDER PASSES BILL GATES AS RICHEST PERSON ALIVE
According to Newsweek, the US financier said that Putin's net worth could be as high as $200 billion.
Mr. Browder's speculation comes from working in the country and seeing how Russia does business. In the 90s, Hermitage Capital had significant assets in state run companies, including Gazprom, Surgutneftegas, OAO Unified Energy System of Russia, and more. At some point, the former KGB colonel cut a deal with Russian businessmen that made him the "richest man in the world"
Things would then turn sour for Browder's Russian holdings. In the mid-2000s, Browder was blacklisted by the Russian government and forcibly deported from the country. Over the next few years, Browder's associates would fall victim to mysterious crimes, which culminated in his lawyer Sergei Magnitsky being arrested by police on obviously false charges. Magnitsky died after being incarcerated in terrible conditions for nearly a year. This eventually lead the US to adopt the Magnitsky Act and other sanctions against the Russian government.
It can be very difficult to pin down Putin's actual worth as much of it is held with friends, family, and associates. According to his official asset form, a mandatory form for all Russian government officials, he makes $133,000.00 per year and lives in a modest apartment in Moscow. However, the infamous Panama Papers show that his net worth is likely much higher than that.
RELATED: DISTURBING FACTS ABOUT VLADIMIR PUTIN 
The Panama Papers show that over $100 million in assets is owned by known Putin associates, with the paper trail ultimately leading to Sergei Roldguin, Putin's best friend. Despite being a musician, Roldguin managed to accrue a vast wealth that many believe to belong to Putin and is being kept with Roldguin to avoid notice.
$100 million is a far cry from the $86 billion Forbes estimates to be the net worth of Bill Gates, however, the Panama Papers were only a glimpse into the secret dealings of the world's most powerful people. Russian opposition parties routinely state that Putin's actual fortune numbers in the hundreds of billions due to his successive ownership stakes in a number of Russian companies.
Putin officially denied all accusations that his wealth is more than officially reported on his asset form.