Into the hospital at Pisco (Peru) came a tired, ragged Indian woman from the foothills of the Andes. She led by the hand a shy little girl, scarcely three feet tall, with chestnut braids and an enormously bulging abdomen. Pointing to the frightened child, the Indian woman begged Surgeon Geraldo Lozada to exorcise the evil spirits which had taken possession of her. Certain that little Lina Medina had an abdominal tumor, Dr. Lozada examined her, and received the surprise of his life when he discovered she was eight months pregnant, making her the world's youngest mother ever.
Dr. Lozada took her to Lima, the capital of Peru, prior to the surgery to have other specialists confirm that Lina was in fact pregnant. A month and a half later, on May 14, 1939, she gave birth to a boy by a caesarean section necessitated by her small pelvis. The surgery was performed by Dr. Lozada and Dr. Busalleu, with Dr. Colretta providing anaesthesia. Her case was reported in detail by Dr. Edmundo Escomel to La Presse Medicale, along with the additional details that her menarche had occurred at 8 months of age, and that she had had prominent breast development by the age of 4. By age 5 her figure displayed pelvic widening and advanced bone maturation.
Her son weighed 2.7 kg (6 lb) at birth and was named Gerardo after her doctor. Gerardo was raised believing that Lina was his sister, but found out at the age of ten that she was his mother. He grew up healthy but died in 1979 at the age of 40 of a disease of the bone marrow.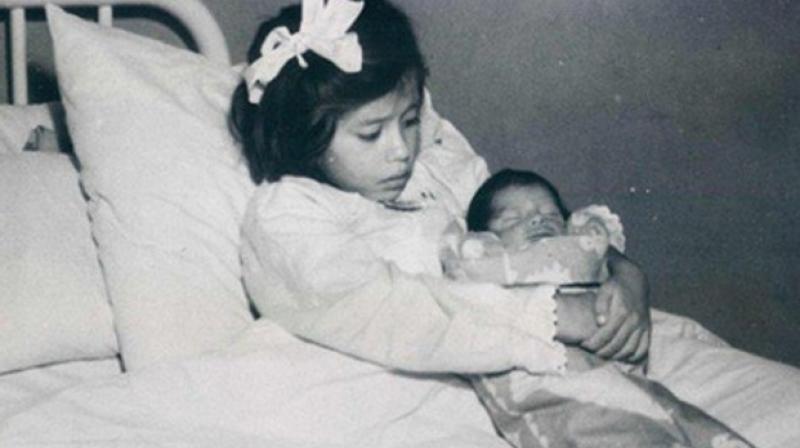 There was never evidence that Lina Medina's pregnancy occurred in any but the usual way, but she never revealed the father of the child, nor the circumstances of her impregnation. Dr. Escomel suggested she might not actually know herself by writing that Lina "couldn't give precise responses." Lina's father was arrested on suspicion of rape and incest, but was later released due to lack of evidence. Medina later married Raúl Jurado, who fathered her second son in 1972. They live in a poor district of Lima known as Chicago Chico ("Little Chicago"). She refused an interview with Reuters in 2002.
There are two published photographs documenting the case. The first one was taken around the beginning of April, 1939, when Medina was seven and a half months into pregnancy. Taken from Medina's left side, it shows her standing naked in front of an inconclusive backdrop (either the side wall of a house with the sun shining on her, or a light-diffusing blanket in a room with an overhead light pointed toward the front of her body). This is the only published photograph of Lina taken during her pregnancy. This photograph is of significant value because it proves Medina's pregnancy as well as the extent of her physiological development. However, this photograph is not widely known outside medical circles. The other photograph is of far greater clarity and was taken a year later in Lima when Gerardo was eleven months old.
Although the case was called a hoax by some, a number of doctors over the years have verified it based on biopsies, X rays of the fetal skeleton in utero, and photographs taken by the doctors caring for her. Extreme degrees of precocious puberty in children under 5 are very uncommon but not unheard of. Pregnancy and delivery by a child this young remains extremely rare because extremely precocious puberty is treated to suppress fertility, preserve growth potential, and reduce the social consequences of full sexual development in childhood, and because termination of such pregnancy is more widely available now than in the early 20th century.
Motherhood: Other amazing cases
Bobbie McCaughey is the mother who holds the record for the most surviving children from a single birth. She gave birth to the first set of surviving septuplets – 4 boys and 3 girls on November 19, 1997, at the University Hospital, Iowa, US. Conceived by in vitro fertilization, the babies were delivered after 31 weeks by caesarean in the space of 16 minutes. The babies are named Kenneth, Nathaniel, Brandon, Joel, Kelsey, Natalie and Alexis.
Jayne Bleackley is the mother who holds the record for the shortest interval between two children born in separate pregnancies. She gave birth to Joseph Robert on September 3, 1999, and Annie Jessica Joyce on March 30, 2000. The babies were born 208 days apart.
Elizabeth Ann Buttle is the mother who holds the record for the longest interval between the birth of two children. She gave birth to Belinda on May 19,1956 and Joseph on November 20, 1997. The babies were born 41 years 185 days apart. The mother was 60 years old when her son Joseph was born.
The highest officially recorded number of children born to one Russian mother is 69. Between 1725 and 1765, in a total of 27 pregnancies, she gave birth to 16 pairs of twins, 7 sets of triplets, and 4 sets of quadruplets. 67 of them survived infancy.
The modern world record for giving birth is held by Leontina Albina from San Antonio, Chile. Leontina claims to be the mother of 64 children, of which only 55 of them are documented. She is listed in the 1999 Guinness World Records but dropped from later editions.