Tashan-e-Ishq / Attitude With Love (India Series Full Story). Tashan-E-Ishq (International Title: Attitude With Love) is an Indian romantic drama television series created by Subhash Chandra under the banner of Essel Vision Productions. It was first broadcast on Zee TV from 10 August 2015 to 16 September 2016.[2][3] The show stars Jasmin Bhasin,[4] Zain Imam, Sidhant Gupta and Naman Shaw in the lead roles and is set in Punjab.
The story (Tashan-e-Ishq / Attitude With Love) revolves around the lives of Twinkle and Yuvraj, and their relationship of love, hatred, betrayal and obsession.
The Show is being Dubbed In English and will air on Zee World on DSTv channel: 166.
Tashan-e-Ishq / Attitude With Love (Plot) 
Related: Qubool Hai / I Accept (India Series Full Story)
ZEE WORLD – LIES OF THE HEART FULL STORY AND TEASERS
Zee world: My Lost Home full story cast summary Zee Tv Shows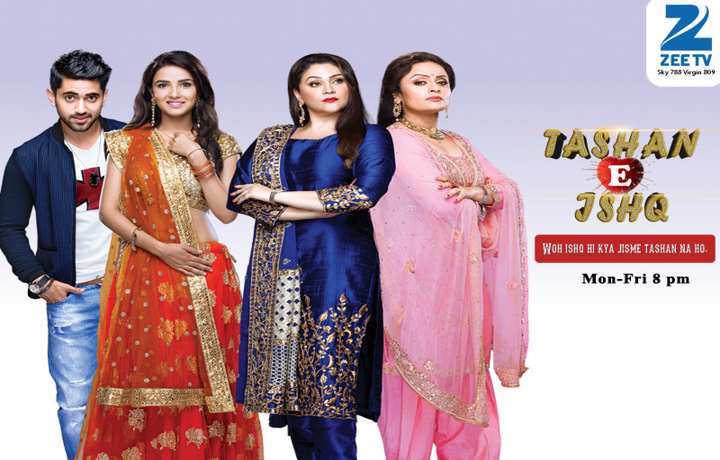 The story Tashan-e-Ishq / Attitude With Love follows the life of Twinkle and Yuvraaj. Twinkle is madly in love with Yuvraj, despite their mothers being arch-rivals. However, Yuvraj is deceiving Twinkle and seeks to destroy her for his mother. Twinkle chooses family over love and marries Kunj, a wealthy man who frequently comes to her rescue.
Yuvraj becomes obsessed and tries to disrupt Twinkle's married life, but the newlyweds manage to save their Tashan-e-shaadi (marriage) and gradually grow closer and fall in love. When Yuvraj's life is saved by Twinkle, he has a change of heart and helps the couple from the plots of his mother, Anita, who is sent to jail.
Twinkle is pregnant when Kunj gets into an accident and is declared dead. For the sake of the child, Twinkle's mother decides to marry her to Yuvraj, who is in love with Twinkle but sensitive of her heartbreak. Kunj, who is still alive and has undergone reconstructive surgery due to the accident, returns to his house and is shocked to see Yuvraj and Twinkle married. He leaves, swearing revenge.
Five years later, Twinkle has lost her child but is still married to Yuvraj and unaware of his unconditional love for her. Kunj has become a successful international boxer and continues to plot revenge, and becomes suspected by Twinkle and Yuvraj.
Twinkle leads him to confess that he is Kunj, but has no idea what to do about her husbands. Twinkle decides to live alone and study, demanding space from Kunj and Yuvraj, but they both find ways to get closer.
Kunj becomes a boxing teacher at the school in order to help Twinkle gain admission, while Yuvraj wears a disguise to befriend her. Eventually, Twinkle becomes closer to Kunj, and despite Yuvraj's renewed interference, Twinkle decides to remarry Kunj. Yuvraj plots with Kunj's doctor and former-conspirator, Pallavi, to frame Kunj for murder, but both Kunj and Twinkle are charged.
A new character, Simple, works with a remorseful Yuvraj to prove the couple's innocence. In the course of this, Yuvraj and Simple fall in love, but need Twinkle and Kunj to point this out to them. Twinkle and Yuvraj convince their mothers to end the feud, and there are happy marriages of Twinkle and Kunj, Yuvraj and Simple.