Behind Closed Doors / La Casa de al Lado Telenovela Full Story – The Condes, a wealthy and influential family, appear to have it all: money, power, and a close, beautiful family. They were recently rocked by a tragedy when Adolfo (David Chocarro), husband of the eldest daughter Ignacia (Catherine Siachoque) died by falling out a window in the family mansion. The other 2 brothers are Carola Conde (Ximena Duque) and Emilio Conde (Gabriel Valenzuela). Meanwhile, Adolfo's twin, Leonardo, continues to live in the mansion, confined to a wheel chair. When Gonzalo Ibañez (Gabriel Porras) marries Ignacia 6 months later, he is compelled to unravel the mystery of what happened to Adolfo. Mysterious events begin to envelop the Conde family suggesting that Adolfo is alive and well.
Next door live Pilar Arismendi (Maritza Rodríguez) and her husband, Javier Ruiz (Miguel Varoni), with their two children. Behind the gloss of success and family felicity lurks a dark reality and secrets that threaten to devastate both the Ruiz and Conde families. Javier is a highly regarded and influential attorney, who, for years, is employed by the Condes. Javier's privileged position becomes threatened by Gonzalo, who is appointed Javier's business associate by his powerful father-in-law, Renato Conde (Daniel Lugo). Javier will do anything to protect what he believes he is entitled to. Romantic intrigue develops between the neighbors and further confounds the mysteries, the tension, the dangers, and the suspense that loom large in the novela. Pilar has a sister called Rebeca Arismendi (Karla Monroig).
It is revealed that Ignacia, Carola and Emilio are not brothers. could not have children and so they were adopted. Emilio gets married to Hilda (Sofia Lama) but they divorce after she gives birth to a child with problems and she has problems herselves. Emilio starts working as gigolo.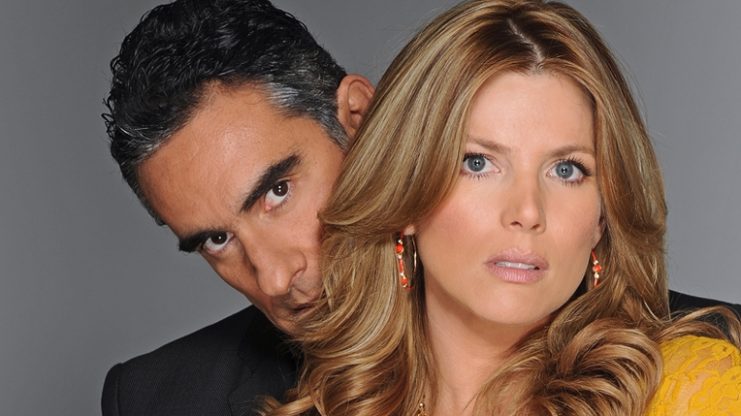 Gonzalo/Inaki Mora, Adolfo/Ismael Mora and Leonardo/Ivan Mora turn out to be brothers, Mabel and Igor's sons. They want to take revenge on the Condes' so they had thrown Ivan put of the window and Adolfo took his place. They murdered several persons who found out their true personality. The first person to whom is revealed that Gonzalo is a criminal is Matias (Jorge Luis Pila), Rebeca's fiancee. Gonzalo shoots him, Adolfo being present.
Pilar falls in love with Gonzalo and divorces Javier. Gonzalo kidnaps Rebeca after she had found out that Adolfo/Inaki and him are murderers. Adolfo/Ismael discovers her, she manages to escape but he follows her by car and causes her an accident. She remains paralyzed, mute.
Pilar's evil image, Raquel Arismendi (Maritza Rodriguez) also wants to get revenge and pour out her wrath on the two families, Ruiz and Conde. She is the author of "La Casa de al Lado" and "Condenados"; in "Condenados" she announces the next murders. She shoots Ignacia and kills her.
Romance, suspense and amazing acting performance will reach the screen with Behind Closed Door. Following the success of the Telenovela "Missing", Behind Closed Doors will tell the story of the Conde family, who runs a powerful business by conducting illegal operations to get rid of their competitors. To know more about the show, please follow this 
Behind Closed Doors / La Casa de al Lado Telenovela Full Story
If you  are telenovela fun, don't wait for the suspense, just  follow us on any our social media platform and request for the full story book (PDF) Its free. You can also send your comment below.