Del Monte Dynasty Telenovela / Los HerederosWhat Life Took From Me / Lo Que La Vida Me Robó Telenovela Full Story del Monte Paula; For Love or Money? Full Story –Los Herederos del Monte (Paula; For Love or Money) is a Spanish-language telenovela to be produced by the United States-based television network Telemundo and RTI Colombia, with Colombia as location. It is a remake of Chilean telenovela Hijos del Monte produced by TVN in 2008.
Five adopted brothers see how their easygoing life in the countryside is changed by the death of their father, who gives part of his land to his only biological child, Paula, who comes to claim what belongs to her.
Paula begins to interfere with the close bond the brothers have, especially when some of them become attracted to her, especially Juan del Monte. They both fall in love which results in Juan leaving Julieta. But when Julieta gets pregnant, Juan marries her but not for love.
Sadly, Julieta loses her baby and leaves Juan. As a result, Juan starts a relationship with Paula. But when Paula finds out that she may not be Emilio's daughter, alongside Jose. Jose forces her to leave Juan, which she does, but then Paula finds out she is pregnant from Juan and she does not know what to do, so she decides to leave the house. Then, Modesto found out that Emilio did not die, and when Emilio returns to the house (but as Pablo Gonzalez), everything changes. "Pablo", Paula and Adela are kidnapped by Jose.
Their father's dying request was for his children to get along. Unable to deny the ranch's new owner what's rightfully hers, they embark on a tough journey of acceptance, love, scandal and betrayal.
The Del Monte Dynasty premieres on today at 15:30 on Telemundo. Before you tune in, check out more about the characters: Juan del Monte is the oldest of the five brothers who Emilio had adopted. He is the family patriarch and is looked upon to resolve any family dilemma. Although Juan is in a long relationship with Julieta, he finds himself in a dangerous situation with the newest Del Monte family member Paula.
See also:
Elena's Ghost Telenovela Full Story book (El Fantasma de Elena)
Forbidden Passion Telenovela / Pasiones Prohibidas Full Story and Video ✔
Precious Rose / Rosa Diamente Telenovela Full Story Book and Video ✔
Get The Full Story Of The Unloved Woman – La Malquerida Telenovela ✔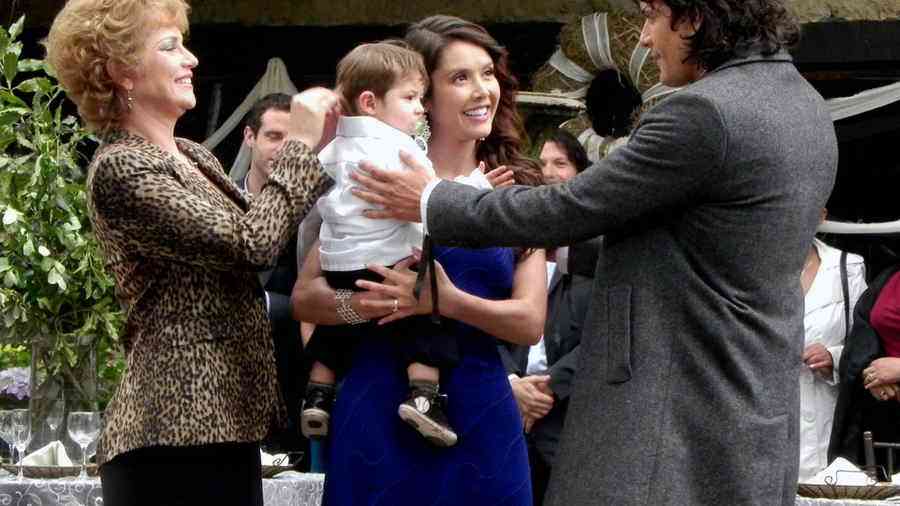 Paula was conceived during an adulterous relationship and is Emilio's only biological daughter. She feels wronged in a way and is more desperate than ever to hold on tight to what's rightfully hers. In the process she unexpectedly falls in love with Juan, changing her priorities forever. (Del Monte Dynasty Telenovela / Los Herederos del Monte Paula; For Love or Money?) 
José Del Monte is attractive and equally ambitious. He keeps a secret relationship with a married woman from his brothers who he calls "a group of strangers". He has mixed feelings of love and hate for his oldest brother Juan, which later leads to tension. Del Monte Dynasty Telenovela / Los Herederos del Monte Paula; For Love or Money?
Lucas Del Monte is the youngest brother, and is a smart, kind, and good person. He will feel a platonic love for his newfound sister Paula. This will lead to great conflict between the brothers. This blind love prevents him from realising that Rosario Millan secretly loves him.
Pedro Del Monte is the most charismatic of all the five brothers. He always tries to keep the brothers united. He was originally abandoned by his mother, so he is particularly resentful towards this social class. He is deeply in love with Julieta Millan, his brother's fiancé, and will do his best to get her love.

Julieta Millán is Juan's fiancée of many years. Since her brief fling with Pedro, he will not stop pursuing her. Her life will get complicated when the affair she had with Pedro is discovered, at the same time as Paula appears, leaving Juan confused about his feelings.
Gaspar del Monte is the most noble of the brothers, but also has an explosive temper. He resents Paula's mother Sofia and blames her for causing his mother's death. Adding to his angst is the fact that his true love Guadalupe is from a rival family and their love must be kept a secret.
Get Del Monte Dynasty Telenovela / Los Herederos del Monte Full Story –Los Herederos del Monte (Paula; For Love or Money)
If you  are telenovela fun, don't wait for the suspense, just  follow us on any our social media platform and request for the full story book (PDF) Its free. You can also send your comment below.