Maid in Manhattan Telenovela (Una Maid en Manhattan)- tells the story of Marisa Luján (Litzy), who runs a small hotel in a village in Michoacan. Before the events shown in the show, she falls in love with Victor, an American man who visits Michoacán every year for the Christmas holidays. She becomes pregnant with Victor's child.
At the start of the show, Marisa's son, Lalo, is ten years old and Marisa's dream of a happy life with Victor has given way to a more troubling reality: the town has become a center for drug trafficking. Among the seedy inhabitants is Miguelito, an old childhood friend of Marisa's who now heads a powerful cartel which buys Marisa's hotel and turns it into a headquarters for drug deals and murder. Miguelito who was always in love with Marisa harbors a deep hatred in realizing Marisa was happy with a Child. In this anger and need fo revenge towards the inhabitants of the town, Miguelito orders for the murder of Lalo's godfather, Esteban. Later on, he heads to Marisa's house and causes a scene, holding both Marisa and Lalo hostage. The Police get involved and in the process, Miguelito dies while Victor is shot. Maid in Manhattan Telenovela (Una Maid en Manhattan)
Marisa decides to migrate north to the United States for the sake of her son, after much persuasion from Lalo. Victor proposes to her and thus provides means of obtaining legal documents to live and work within the United States. In Los Angeles, Marisa and Victor are married, but things quickly sour when Marisa catches Victor cheating with another woman on their wedding day. She quickly decides to move to New York, where her childhood friend Belinda (Maite Embil) offers help. Thanks to Belinda's good word, Marisa finds employment as a maid in a Manhattan hotel and, through good work, begins to gain the trust and respect of the hotel manager. Consecutive wins as Employee of the Month and the encouragement of her maid friends begin to convince her that she should apply for the open position of assistant manager.
Her aspirations for advancement are complicated by a mixup involving Cristobal Parker (Eugenio Siller) a wealthy man and New York Senator's son, who is staying at the hotel. Cristobal Parker follows Lalo into the premier suite only to find Marisa dressed in a rich guest's glamorous clothes. After a walk in Central Park, he begins to fall in love with Marisa. She, in turn, feels for him what she had convinced herself was not possible after her problems with Victor and other men. Maid in Manhattan Telenovela (Una Maid en Manhattan)
See also:
Forbidden Passion Telenovela / Pasiones Prohibidas Full Story and Video ✔
Precious Rose / Rosa Diamente Telenovela Full Story Book and Video ✔
Get The Full Story Of The Unloved Woman – La Malquerida Telenovela ✔
Made in Cartagena Telenovela Full story Book and Video ✔
However, Marisa is also a responsible and loving mother and woman. Although she admits to very much liking Cristobal, she cannot justify jeopardizing her son's education or her job for what she considers to be a fairytale. Also in the mix is Sara (Vanessa Villela), another hotel guest and a vapid fashion critic who has set her sight on Cristobal Parker.
Though Cristobal is smitten, Marisa feels guilty about misleading him about her true identity as a maid. She is also reluctant to continue seeing him as she is worried about the status of her job and as she considers they come from far too different backgrounds to make things work. Through deep convincing from Lalo and her friends at the hotel, Marisa accepts Crisobal's invitation to a fancy gala. Her friends help her dress up and she makes a grand entrance, everybody being fascinated by her. Sara immediately feels jealousy towards her. Cristobal's parents however, love her at first sight. Tito orders an investigation into who Marisa really is without her knowledge.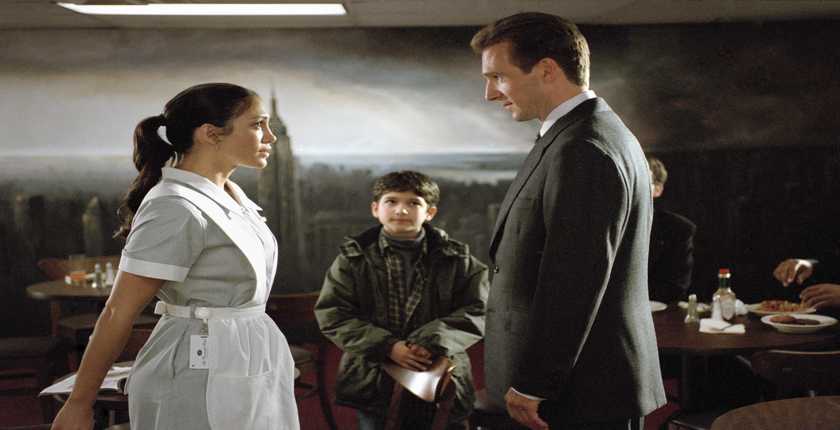 Cristobal convinces Marisa that whatever explanations she wants to give, they can discuss the next day. They spend the night together. Sarah remembers where she has seen Marisa. When Marisa wakes up the next morning, she has a confrontation with Sara outside at the hotel corridors. With Alicia's help, Sara plans on exposing Marisa as a gold-digger and imposter after the whole national media. Marisa is fired from her job.
This causes a huge scandal with Tyron's re-election plans being affected by this. As Yaya and Victor both come to Manhattan, they get involved with Sara, sparking more fuel to Cristobal and Marisa's relationship. Victor going as far as appearing on a gossip TV show hosted by Catalina Lucero and getting paid five-thousand dollars for playing his part. Lalo becomes convinced that Victor has changed and he convinces his mother to give Victor a second chance. Marisa allows for Lalo to spend more time with Victor but refuses to fall for his traps again, especially after finding out about the 5000 dollar payment. At this time Marisa and Cristobal break up after much tension from Cristobal's parents and a visit from Victor. Sara uses this chance to get closer to Cristobal, even Bruno pretending to be gay so they can have Tito as their confidante.
Tito falls for Sara's charms and seems to lure Cristobal to considering a relationship with Sara. Amelia and Tyron also fall for Sara's pretentiousness.
Estanislao and Calixta join a business patnership. However, Calixta's new friends – Goyo and Marisa – are not too happy with Calixta's move. Calixta's manages to convince them to trust her as a friend and not to judge her. Calixta manages to involve Belinda's abusive husband, Hugo, under investigation by immigration officers. This manages to free Belinda from her abusive husband.
Lalo gets into an argument with Joaquin at the school for Talented kids after Lalo realizes how much Joaquin exploits is making out of their efforts. Joaquin manages to convince Lao to drop his campaign but this does not go unnoticed by Marisa and Mireya – both of them start becoming suspicious of Joaquin.Maid in Manhattan Telenovela (Una Maid en Manhattan)
Lalo in the meantime is on tour and after Joaquin reserves a dingy hotel for them, and threatens him against complaining whilst insulting Marisa, he riles up his friends to embarrass Joaquin in front of the investors. This causes the investors to storm out of the demonstration. Tarek also threatens Tania but this does not go well with Jerome who beats up Tarek and threatens him in front of everybody at Estanislao's bar. After an argument with Joaquin, Lalo escapes and goes home. This incident angers Marisa who withdraws Lalo from the school and enrolls him into a public school where Mireya now teaches. Victor wins custody over Lalo after Sarah buys expensive items for Lalo to make it look like Victor has been yearning for Lalo to move in with them.
This breaks Marisa's heart but Lalo assures her that its only temporary. Lalo devises a plan of exaggerating his neediness while with Victor and Yaya. This does not go easy on the two whose social life is cut short and are forced to make concessions in their lives they would rather not. Victor gives Lalo back to Marisa and Marisa makes him sign a document indicating that Victor will never again try to fight for custody of Lalo.Maid in Manhattan Telenovela (Una Maid en Manhattan)
The Parker's invite Marisa and her friends to a party at their home. The party goes well despite Sarah's presence after she managed to convince Tito that she could be the best Image Manager for Cristobal. Marisa & her friends however, refuse to destroy the party mood because of Sarah and at the end of the day, she ends up being the one almost humiliated by the Queens' people. The whole Parker family gets especially fond of Lalo due to his intelligence and antics. Hugo, who is now back in Queens illegally and is hidden by Estanislao and Tarek, breaks into Marisa's house while they are all at the party and leaves a warning message. Marisa and her friends however agree to be ready for Hugo rather than give him the satisfaction of being scared.
At Parker's campaign launch within Queens', Marisa makes a mark with her speech urging residents to vote for someone who will care about their rights. She and her friends also make a mark when they assist the Latin band to entertain the crowd. Cristobal's party is a hit despite Hugo showing up in a disguise. Hugo's taken away by Tarek even though Marisa and Belinda see him; Sarah also witnesses this and asks Tarek to introduce him to Hugo secretly. Using Hugo's hatred for Marisa, Sarah plans to use him to kill Marisa. Days later when leaving the hotel with Marisa and Sarah, Hugo fires a gun at Marisa while she's standing at the front doors of the hotel. The bullets to be used were supposed to be blanks but Hugo replaces blanks with real bullets. Sarah intercepts the bullet as planned not knowing they were live. Marisa and Cristobal are shaken up by the incident and Sarah is taken to the hospital. Sarah seduces the doctor to lie to everyone that her situation is critical so she can get more sympathy for her "sacrifice".
However, Yaya finds out that Sarah planned the whole incident. Despite the fact that the bullets were real, the fact that she was able to manipulate the situation to her favor makes Sara pay Hugo and Tarek. When Yaya's on call with Bruno, Marisa hears about Sara's involvement and she is shocked by how far Sara could go to get Cristobal. After mulling over the situation, she confronts Cristobal and tells him of her suspicions but thanks to Sara's machinations, Cristobal does not believe Marisa and insists its a jealous fit. They break up.
Ty in the mean time gets to know of Calixta's involvement with Richard on trapping Estanislao and the drug lord Laczano. During one of his conversations, Carmen overhears and suspects Ty of cheating on Amalia. Despite Ty explaining to her that that was not true, Carmen insists on it and tells Amalia. Amalia however knows the truth after Ty's confession and she rebuffs Carmen's warning that she watch out for her husband. Maid in Manhattan Telenovela (Una Maid en Manhattan)
Hugo kidnaps Marisa and hits her and attempts to rape her but Cristobal saves Marisa. When they realize that Hugo is uncontrollable, Estanislao and Tarek kill him and throw his body into the Hudson River where police later find it. Cristobal arranges outing with Marisa to discuss their problems but he avoids the Sara issue – especially after he kissed Sara the previous occasion. They try to make their relationship work again. Lalo faints and this worries Marisa who takes him to hospital despite Lalo's insistence that he is fine. From tests carried out on Lalo, a tumor is found in his head and this devastates Marisa. Tania overhears Cristobal talking with Sara in the hallways about kisses they shared.
She tells Leti and they decide to tell Marisa. Marisa decides to break things off with Cristobal accusing him of behaving exactly like Victor did -seeking consolation from another woman in the first glimpse of trouble in their relationship. She also decides to take time off from the campaign to spend more time managing Lalo's condition before his operation is scheduled. Maid in Manhattan Telenovela (Una Maid en Manhattan)
By his time, she has grown close to The Engineer working for the Parker Project in Queens,Frank, and Sarah brainwashes Tito telling him that Marisa must now be in love with Frank and that's why she's staying away from Cristobal. She also taunts Cristobal with this and during one of her visits to Cristobal's room, Cristobal insults her and throws her out. This renews Sarah's passion to destroy Marisa and she sets a plan in motion together with Estanislao and Tarek. Victor gets fired from his job after he's found drunk during work hours.
Sarah organizes a jewellery viewing and the hotel with Amalia a the face of the exhibition. Marisa & her friends refuse to work for the exhibition but Sarah begs them, using her "saving" Marisa's life and the fact that Marisa would need the money since her son is sick. They girls agree and they decide that all they'll be paid will go to Lalo's
treatment fund. Unknown to them, Sarah has organized a jewellery heist thanks to hotel security information she,Tarek and Estanislao receive from Victor when they get him drunk. During the exhibition, Victor, while drunk, guides Tarek through the hotel, helping them dodge thesecurity cameras.Tarek steals Marisa's insurance card from the hotel manager's office and they steal the jewellery after knowcking down the secuity guards. Meanwhile, at the exhibition, Bruno, on Sarah's orders, films Marisa's opinion on what she would do with 1 million dollars. The filming is strategically positioned such that Marisa is standing next to the exhibition crown tiara. Sarah's plan is that her interview coupled with the fact that she wont have insurance for Lalo will make her a first suspect before the police.
Lalo is taken into surgery impromptu on the same day that police search the apartments of everyone who worked during the exhibition. Tarek has placed the crown jewel worth over 1 million dollars in Marisa's laundry basket and when the police search, they find it and arrest Marcela as Marisa is not in the house. Meanwhile after stalling the operation waiting for the hotel manager to sort out Marisa's insurance, Amador asks the manager to call Cristobal. Cristobal goes to the hospital just in time to help sort out the payment issue so Lalo's operation can go on. Sarah has called the press rooms fueling the fire before Marisa gets caught. The Police arrive at the hospital to arrest Marisa. In her distraught state since she doesn't want to be away from Lalo while he's in theater, she insists she's not going anywhere with the police and tries to run away but now she's forcefully arrested. The media thanks to Sarah's leaks show up when Marisa is at the Police station. Marisa is interrogated but thanks to Sarah's machinations with Thompson, Marisa is denied bail. Sarah talked with Thompson to request that he ask the judge to reject the bail application for Marisa. Cristobal is distraught but he keeps vigil at the hospital looking after Lalo on Marisa's request.
At the Prison, Catalina tries to make things hard to Marisa, but Marisa outsmarts her every time, with little violence involved. On one attempt Marisa wins a basketball match bet against Catalina, forcing Catalina to promise in front of all the Prisoners that she would never again try to create hell from them. Both Sarah and Amelia visit Marisa in Prison, and ask her to break up with Cristobal.
Both Frank and Cristobal get lawyers for Marisa who after their initial argument and chest thumping, they decide to represent Marisa together. Cristobal's choice of lawyer tries to advise Marisa to change her plea to Guilty but this does not go too well with Marisa, her family, Oscar (lawyer chosen by Frank) and Frank. Oscar starts investigations into the Judge handling Marisa's case and a lot of dirt is uncovered on her relationship with Thompson. In order to stop the party representatives from investigating Thompson and probably kicking him out of the party and him losing his political career, Thompson convinces the lady judge to grant Marisa bail and to withdraw from the case. This infuriates Sarah though. Marisa comes back to the hospital and while she's talking to Lalo who is still in coma, Lalo responds to his mother's voice and wakes up. Marisa breaks up with Cristobal.
Lalo's road to recovery is good and he's even allowed to be an out-patient. Marisa calls in during a live show and denounces her relationship with Cristobal in front for all to hear. They argue about this later on with Cristobal heartbroken and insulting to Marisa. Cristobal's poll ratings go up as a result of Marisa's sacrifice. Sarah takes advantage of this and stars seducing Cristobal, with her arranging for paparazzi to hound them when they are out on dates.Their pictures even get to the front pages and Sarah and Bruno pretend to be distraught of these events.
Leti marries his fiancee Rolando after a mistaken identity is resolved. Lucas had thought Rolando was involved in human trafficking and tried to stop their wedding. This mistake is cleared however and Leti and Rolando move to Japan.
Carmen argues with Amelia over Sarah trapping Cristobal and he tells her that he's thinking of marrying Sarah later in the future. This angers Carmen who cries for their blind eyes and minds and she moves out of the Parker residence and into Marisa's home. Marisa comes up with a business/philanthropic venture to help women acquitted of their crimes to rejoin the society through finding work employment. Though the idea is risky, Amelia and Calixta support her and vow to provide funding and awareness. Cali cafe was burned down by a man sent by Estanislao who was on the run after the blotched drug-deal with Lazcano. Estanislao goes into hiding where he is helped by an emotionally unstable former Wall street employee. The precious gems are still in his possession and his sale of each piece leads to Oscar tracking the theft to him.
Sarah is busy scheming on getting Christobal and even gets Bruno to create a photo montage of her and Christobal from an old picture of former President J. F. Kennedy and his wife, where instead of their faces it is Christobal and Sarah's faces. Bruno sent the pictures over to Sarah who was getting ready to leave fr a meeting in the Hamptons with Christobal, Chris was the one using Sarah's computer and he saw the message from Bruno and opened the mail. On seeing the pictures he was furious and demanded for an explanation from Sarah who broke down to tears and said that it was a joke from Bruno who knows how much she loves Chris and that he was only trying to make her feel better. Later on Amelia goes to see Marissa and informs her that she has decided to support her in her new project and informs Tito that she would like for him to create an awareness campaign using the stories of the women who were in jail with Marissa.
Christobal calls Tito on his cell phone while Amelia is there who asks to speak with him. Christobal is puzzled why his mother was at the campaign headquarters which he asks Tito when they meet later on. Tito then tells him about Marissa's campaign but does not mention Marissa's name but the name of the project (free butterfly) makes it easy for Chris to know the founder. He then goes to Marissa's house and informs her that he too supports her idea and would like to help, but Marissa tells him that she wants to do the project without his shadow over her. He asks her to look him in the eyes and tell him that she does not love him. She looks at him and says that she no longer loves him. He then runs from the house in anger and to the campaign headquarters where he informs everyone to leave him alone. Sarah does not leave and tells him that he must have come from Marissa's house but Christobal firmly tells her that he does not want to talk about it. Meanwhile Marissa tries to follow Christobal but finds him gone, she then goes to the former Cali C
afe to cry in her pain. Carmen finds her there and asks her why she is in tears, Marissa tells her that she had to hurt Christobal again. Carmen tells her that if she were her mother she would take him to Chris and force her to tell him exactly how she feels about him.
Cristobal starts dating Sarah. As the Senate elections draw near, Cristobal campaign gains momentum and his supporters in Queens are optimistic of his win. The shelter is officially transformed into its intended purpose. On the campaign closing celebrations, Cristobal wants the celebrations to be held in Queens, much against Sarah's wishes. But Cristobal stresses on the fact that the whole campaign slogan and theme was the brainchild of Marisa. For the dancers, Cristobal wants the fantastic three to perform (now not Fantastic Four as Leticia has now relocated), Marisa however refuses to dance during the campaign, although she agrees to choreograph Tanya and Belinda.
However, on the celebrations,when all in attendance are waiting for the dancers, Marisa makes a last minute surprise attendance and the party becomes a hit. Sarah is furious. Marisa's song is of the theme of closing former doors and going into new doors into the future. Cristobal tries to convince Marisa to get back with him, she refuses and insists she doesn't love him. He is heartbroken once again.
Much to Sarah's outburst that Marisa's link to the campaign would have negative effects, Cristobal wins the election with a majority of the votes. Belinda is rushed to the hospital after collapsing and during her recovery, she and Goyo get back together. Marisa goes to Cristobal's room to congratulate him on the win but she sees him entering Sarah's room. The next morning Sarah forces Tanya to serve her breakfast in her hotel room so that Tanya could see Cristobal spent the night with Sarah. Sarah and Cristobal start dating with Sarah giving Cristobal her picture as a gift.
Both Tarek & Estanislao end up in jail after Estanislao tries to kill Calixta. They start planning their escape while getting financial support from Sarah on the outside.
Cristobal proposes to Sarah after a while. Marisa is dismayed but everyone chips in to find evidence against Sarah, even the NYPD Chief of Police, Richard Garcia. Sarah sends invitations to Marisa and her friends in Queens to rile them up. Yaya starts dating one of the NYPD officers while attending nursing college and she's happy. Victor's happy with Mireya who supports him fully. Yaya recovers and is already attending school regularly. On the day of Cristobal and Sarah's wedding, Ty tries to convince him to cancel off the wedding, much to Amelia's anger. Sarah gets into an argument with a woman who its later revealed is Sarah's real mother. Sarah mistreats her and kicks her out of the venue. Marisa sees all this. Earlier, one of Marisa's Free Butterfly employees reveals how Sarah & Catalina Lucero paid her to bring shame to Marisa's business and destroy her.
Marisa talks to the woman and she finds out that the woman is Sarah's real mother who worked as Sarah's nanny and a cleaner at the Montero residence. As Tanya is cleaning Sarah's room, a call comes through to Sarah's phone and Tanya hears Estanislao's voice. She calls Marisa and Marisa calls Richard as they try to get evidence on this. At the same time, Victor and Yaya also come to give support to Marisa and expose Sarah.
Tito hears Sarah and Bruno arguing and he learns that Bruno is not really gay. He gets heartbroken and hits Bruno. The wedding starts and as the Priest asks for objections to the wedding, Cristobal tries to stop the wedding; At the same time Marisa comes in with Sarah's real mother and she reveals everything about the jewellery heist and Sarah's relationship to Estanislao, infront of the whole Church. Sarah gets furious and hysterical and tries to convince The Parker family that Marisa is just jealous. Yaya and Victor get to the Church and reveal that Sarah paid them to Take away Lalo from Marisa and to seduce Ty Parker. Cristobal gets real furious and turns on Sarah. But as Richard is still waiting for the arrest warrant against Sarah, Sarah escapes with Bruno. A search is out for Sarah as her arrest warrant comes through. She escapes with Estanislao, first to Queens where the Police find them after Tarek speaks out. Then they escape to one of Sarah's neighbors posh residences which only Bruno knows.
Cristobal comes to Marisa and asks for forgiveness and for them to get back together, Marisa however, asks for more time. Amelia also comes and apologises to Marisa and Nana and convinces Marisa to go back to Cristobal. Marisa and Cristobal get back together the same night. Sarah hatches a plan to kidnap Lalo to hurt Marisa. With the help of Estanislao, his cousin and their men, they kidnap Lalo at the school while killing a police officer. Sarah wants to kill Lalo immediately but Estanislao refuses her request. They agree to first use Lalo to lure Calixta and money before Sarah can do anything she wants with Lalo. The Police track Calixta's money bag but Estanialo's men find the tracker and dsipose of the bag halfway through before they go to the hiding residence. Maid in Manhattan Telenovela (Una Maid en Manhattan)
Luckily, Bruno comes to the Luan residence and offers to take them to where Sarah could be hiding. On the way Bruno gets shot in the arm by one of Estanislao's men. Marisa shouts at Sarah to dare face her as a woman while Victor and Cristobal go round the house to save Lalo. As Victor runs away with Lalo, Cristobal holds hostage Estanislao's cousin. Estanislao shoots his cousin to prove to Calixta that he is not afraid to shoot. Cristobal is between Calixta and Estanslao, with both of them holding their guns at ready although Calixta is afraid to shoot. When Estanislao wants to fire a shot at Cristobal, Cristobal ducks and Calixta shoots Estanislao in the heart, killing him on the spot. Sarah and one of Estanislao's men had gone after Victor and Lalo and they corner them at a bran. Marisa fights with Sarah and overpowers her, Victor fights with Estanislao's man. Cristobal and the Police arrive and they take Sarah away.
At the end, Marisa and Cristobal finally get married while Sarah becomes the slave of Catalina Lucero and her troop in Prison. Bruno remains alone, Yaya becomes a Nurse, Free Butterfly succeeds.
It will take both characters' willingness to see things from a new different perspective and a willingness to turn things upside down to make things work.
History
Production and filming of Una Maid en Manhattan officially started in late 2011.
From November 29, 2011 to July 9, 2012, Telemundo aired the serial weeknights at 8pm/7c, replacing Mi Corazón Insiste.[5][6] From July 10 to 23, 2012,[7][8] Telemundo aired half-hour episodes of Una Maid en Manhattan and Rosa Diamante, both sharing the 8pm/7c time slot.[9] As with most of its other telenovelas, the network broadcast English subtitles with closed captions on CC3.
Get a copy of Maid in Manhattan / Una Maid en Manhattan Telenovela Full Story Book
If you  are telenovela fun, don't wait for the suspense, just  follow us on any our social media platform and request for the full story book (PDF) Its free. You can also send your comment below.