Under The Same Sky Telenovela Get Full Story – Under the Same Sky), Bajo el mismo cielo (English title: Under the Same Sk is an American telenovela created by Perla Farías for Telemundo.The telenovela is an adaptation of the 2011 American drama film A Better Life directed by Chris Weitz by the screenplay Eric Eason.
New telenovela 'Under The Same Sky' / Bajo el mismo cielo to launch on Telemundo
This February, Telemundo (DStv channel 118) will exclusively launch a brand new telenovela Under the Same Sky / Bajo el mismo cielo, following the trials and tribulations of a family torn apart by gang violence. What would you do if your eldest son became a gang member? This is the harsh reality that Carlos Martinez faces when his family is torn apart by gang violence. Tune in from Monday 8th February at 17:10 CAT to follow the gripping story set in the unforgiving streets of Los Angeles.
Telemundo's new telenovela Under the Same Sky / Bajo el mismo cielo
It's time for Telemundo's first new telenovela of 2016. Under the Same Sky / Bajo el mismo cielo premieres on the channel at 17h10 today (8 February) and the story poses a tough question: what would you do if you lost someone you love to a gang?
The story centres round Carlos, an undocumented Mexican father who's living in Los Angeles illegally. He has two sons: Luis, who's young and impressionable and Rodrigo, who's ruthless.
Carlos has good intentions and he's trying to live an honest life but things are very difficult for him. He lives with the constant fear that he's going to be deported and he has to deal with the harsh realities of Rodrigo who disappears to join a gang.
This turns Carlos's world upside down and he becomes desperate in his struggle to keep Luis away from making the same mistake.
And then things get really complicated. Carlos falls in love with a gang member called Adela after she tries to steal his truck. She's beautiful and she's deceitful and she's played Part of Me's María Elisa Camargo (Adriana/Mónica) .
Gabriel Porras (For Love and Justice) plays Carlos and his sons Rodrigo and Luis are played by Luis Ernesto Franco and Alejandro Speitzer…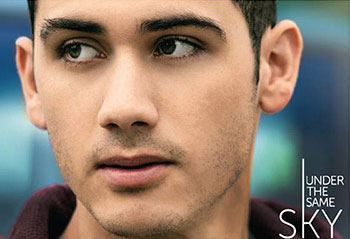 … he started his Telemundo career
as a youngster in the teen 'novela Dare to Dream.
See Also:
The Top 10 Best Universities in America
U.S. Senator Salaries – How Much Does a Senator Make?
The 10 Biggest Exporting Countries in the World
Hiroshima & Nagasaki: 6 Quick Facts About The Historical Tragedies
SA Flags To Be Flown At Half Mast For Fidel Castro- This Is Why
Chiropractor Salary – How Much Does Chiropractors Make?
Dentist Salary – Average Dentist Salary. How Much Does a Dentist Make?
If 17h10's too early for you to be Under the Same Sky / Bajo el mismo cielo as the show you can catch the repeat at 21h20 or the omnibus on Sundays at 12h10.
Here's a first look at the teasers: Under the Same Sky Telenovela / Bajo el mismo cielo – February Teasers.
Under The Same Sky / Bajo el mismo cielo (The plot)
Carlos Martínez (Gabriel Porras), an undocumented immigrant living in Los Angeles, is a good, hardworking man who wants to give a good future and better opportunities to his children. Carlos is a widowed man who only lives with his youngest son, Luis (Alejandro Speitzer). His oldest son, Rodrigo (Luis Ernesto Franco) became a gang member and left the house years ago, during his teenage years.
Carlos faces several difficulties and dangers because of his legal situation, but remains optimistic and tries to live honestly and decently, working as a gardener. He has a relationship with a Mexican-American woman named Felicia (Erika de la Rosa) who owns a bar and is desperately obsessed with him. On the other side of the story, Adela Morales (María Elisa Camargo)is a young and beautiful woman who lives in Lancaster with her brother Matías (Carlos Ferro) and her alcoholic mother Laura (Rosalinda Rodríguez). Like Carlos, Adela came into the United States as a young girl and is also undocumented. Adela and Matías joined a gang named La Colonia since they were teens.
La Colonia is led by Colmillo (Julio Bracho) and his right-hand, who is actually Rodrígo, now known as "El Faier". One day, one of Carlos co-workers and friend tells him that he is leaving the United States and will go back to México, so he wants to sell Carlos his old truck, so Carlos can continue working as a gardener and also start his own gardening business. Carlos borrows the money from his sister, María (Liz Gallardo) and purchases the truck. Meanwhile, Adela and Matías are taken prisoners by La Colonia, after the gang discovered that Matías is having deals with a rival gang.
Noemí (Cristina Mason), another gang member, accuses them both to cover herself because she has been stealing drugs from La Colonia. Matías is killed by the order of Rodrígo, who ordered his death from jail, and Adela is marked down in her belly as a traitor. Adela escapes from La Colonia, and they start hunting her to kill her. One day, Carlos stops in a store to buy some supplies and parks his new truck outside. Adela is walking nearby, hiding from La Colonia. Suddenly she sees some members of La Colonia, and desperate to escape, she sees Carlos's truck and steals it.
Carlos runs behind the truck and is able to get himself attached to the door. Carlos and Adela, despite the situation, fall in love at first sight, and from that moment starts their story together.
Get Under The Same Sky Telenovela / Bajo el mismo cielo full story Book
If you  are telenovela fun, don't wait for the suspense just  follow us on any our social media platform and request for the full story book (PDF) Its free. You can also send your comment below.