<![CDATA[
A man with a gun in his hand isn't necessarily as dangerous as the gun, in his hand. If this statement did not make your hands tremor, mind wonder and your heart pump faster than its usual rate then wait till you read further about some of the world renowned, tried & tested and somewhat highly feared guns that can be considered as only the tip of the iceberg of the World's most dangerous guns ever to be produced and handled either by trained professionals or even worse if in the hands of criminals. As we speak there is an arsenal of these guns being produced, stolen as what the enthusiasts would consider as weapons of destruction or even pointed at somebody.
Guns are "big boy toys" and the bigger the gun, the fun to play with some would say. Modern day men have developed a kind of strange taboo and an unusual attachment to their precious metals that come in the form of lethal injective bullets that are deployed by a single pull of the finger. It merely takes a gentle nut firm pressured pull of one thing which is enough to cause collateral damage and all it takes is an aim and fire action by the people behind the gun. Once again this validates that "A man with a gun in his hand isn't necessarily as dangerous as the gun his holding.
For century's people who found particular use for these dangerous weapons of destruction has never met the final feeling of satisfaction of what their guns can do and so have taken more than a century to revolutionize their artillery to make it bigger, more powerful, modernized, convenient and compact enough to bring down a helicopter from the sky. Below we can determine the aftermath of what these guns are made of and particularly why it falls under the category as some of the world's most dangerous guns defined by Range, power, design, features and several other factors that speaks of extreme damage by the established reputation of its caliber.
10. Uzi Sub-Machine Gun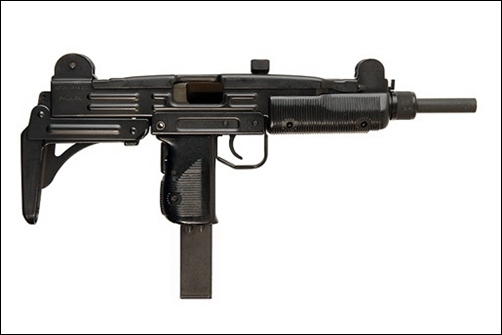 Uzi Sub-Machine guns have been downsized from regular sized machine guns in order to have the exact same capabilities of a large automatic bullet driller but in the mobility of a handgun to make it very easy to carry around and can fit in an unsuspecting suit case ,wrapped in a cloth and smuggled ,placed under the serving dish platter and transported to who it may be of interest to and the possibilities of getting creative with this compact sized yet extremely dangerous gun is endless ,more especially if in the hands of gangsters on the street as where most of its popularity lies. The UZI is with no doubt one of the most dangerous guns and canswitch between semi-automatic and automatic fire modes as well. Just like its daddy, the Kalashnikov AK-47, the Uzi is also relatively easy to produce which meant large productions and a large number of people who could get their hands on it too. With over 50 years of its existence, it has been mastered and refined into a small handgun that can still pack as much as a heavy machine gun but only with the limitation of 9mm caliber as opposed to the rest.
Uzi's ranked among world's most dangerous guns, uses would include the unexpected, unforeseen, unpredictable usage of gangsters attacking innocentstreet civilians, children or anything that gets caught up in their crossfire on almost every ghetto or busy street area. One cannot get much aim from using a single action pistol to shoot somebody from a moving vehicle which is particularly why an UZI sub machine 9mm pumping gun would be used to 10 blindly shoot 40 rounds per minute in a rapid manner to eventually hit their intended target or targets in plural. The gangster term given to this is "Drive-bys".
9. M1911 Browning Pistol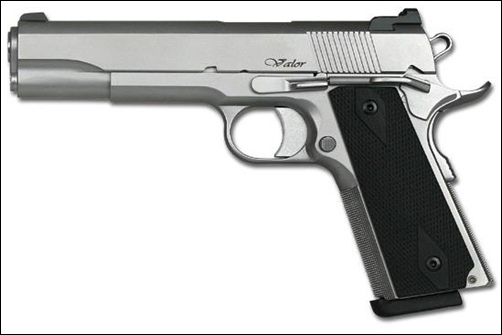 Every Mafia man has a code. A code of precision is one of their favorites and not forgetting, OMERTA (The code of silence). To a Mafia crime boss ,having a gun that ensures an un-doubtful precision shot in a revenge retaliation vendetta or towards a Family rivalry and to have the ability to add a silencer to make it more mysterious ,then the M1911 Browning Pistol would be best suited for the major role it would play in a Mafia Don's hands. It is one of the most dangerous guns in the world.
The M1911 automatically becomes a sign of danger with its long time linkage of being one of the most favored gangster guns ever since its existence. Just as the AK-47 has become an instrument of terrorism and a favorite weapon of choice for more than half a century then so has the M1911 made its mark in the infamous and notorious criminal underworld, mainly for the slim design which makes it easy to swoosh in the belt of a ruthless disciplined and highly trained Mafia Hitman without having a suspicious bulge that's visible at easy glance. Being able to conceal this weapon easily allows a number of possibilities in order for a clean escape through detection systems or to what meets the eye. The silencing feature of Browning's 1911 pistol is somewhat the most commonly used accessory although it also allows for a rail with an under barrel flashlight and a small scope too. Mafia men want their Hitman 'jobs' to be done silently and a 1911 pistol fitted with a silencer would be best suited for this line of work. Anything murder that can happen silently can happen anywhere without alerting or alarming any authorities or passer-bys which makes this a death one too many by the command of a Mafia Don. Small guns can do dangerous things and the explosive blasting power of a grenade or a dynamite validates this statement.
The standard .45 Caliber bullet to human's body could yield a thrust or a penetration enough to crack a bone if not go through one end and come out through the back and shots of many to a human body can break an upstanding person to a point of extreme dis-functionality, if not a fatal end by the first shot.
8. Heckler and Koch MG4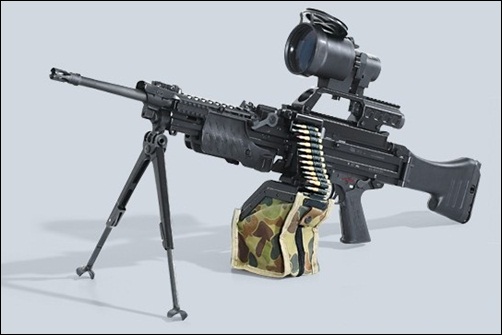 The HK MG4, one of the most dangerous guns to ever have been made, falls under the same family as the AK-47 however it can be considered as the Patriarch of the machine gun family. Every gun has its strengths and weaknesses and the HK only knows power! Extreme firepower with a vast amount of capabilities that makes its handler feel like a one man army. The integrated bipod allows for stopping anywhere at any given vantage point to lay it down like a sniper rifle and to use it that, with its improved light weight it also allows one to carry it and run at a normal speed as it would be without holding any weapon until switching to super raged Rambo or Terminator mode. Several armored vehicles that's built for the wildest terrains also allows for HK MG4 mounting to serve the purpose as a machine gun on wheels which means danger to anybody in line of sight of the continuous chain fire of 45 MM NATO rounds where one round shot at the right place can cause an equivalent damage to the destruction of a bazooka.
Imagine a chain of automatic fire non-stop which is bound to make the shooter reckless and imprinting on their minds a feeling of invincibility when holding this gun, let alone firing it. The feeling of invincibility in firing a powerful machine gun that looks and feels dangerous and is death defying by hells bounds of its potential can cause an irreparable amount of mass destruction by one gun alone, especially if when firing it, gives the shooter for a short while an impression of having an unlimited amount of bullets to squander around recklessly ,which raises a question of world concern that if one gun can cause that amount of damage in the hands of a reckless ,wild spirited ,psychopath on a mission ,what would the world see in war with an entire cache of HK MG4's at an armies disposal. Hellfire is what comes to mind at the thought of it. With the allowance of 770 rounds per minute of belt fed 45mm bullets at a time, the possibilities of a torn up town are at high risk.
7. Kalashnikov AK-47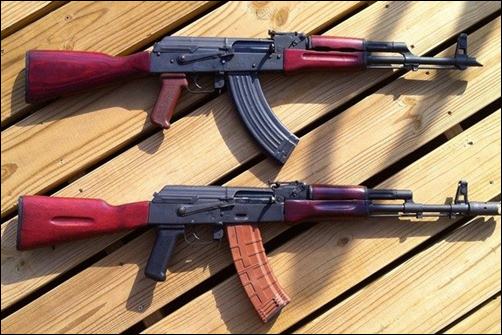 The AK-47 can strike fear in even the novice and ignorant average person who knows not a single thing about guns in general. The Birth of the AK-47 in the era of early nineteenth century meant the birth of a beast that is to live for another century thereafter. Mikhail Kalashnikov has created what has proven to be the instrument of destruction and terror on a global scale as we know the gun today. He did not anticipate that he would be giving birth to what was a ticking time bomb of the world in the long run. Although the AK -47 that ranks among the most dangerous guns, is extremely intimidating in its strikingly unique appearance, even when not in the hands of terrorists such as: Saddam Hussein and Osama Bin laden, just the sight or presence of the AK-47 creates a dangerous atmosphere. Fired at close range, the power of the AK which in actual fact has its shortened name that's an obvious derivative of "Avtomat Kalishinova".
AK-47 has been known for several years as one of the most dangerous guns to exist and is often found in the hands of Local rebellions, soldiers and Terrorists internationally for its wonderful ability to fire an unbelievable 300M away at long range with gale-force of power before piercing its target. Another excellent advantage that this gun has regardless of whose favor is that is can be used primarily as a machine gun to drill a rate of 600 Rounds per minute, which if in the close range of a human being will mean a grizzly death at which nobody even with state of the art body armor would be able to walk away alive from. Unfortunately to anybody ,if in line of sight of an AK-47,theres just no winning even if you have armor do to the power it pushes out at extremely close range.
The danger factor of the AK-47 spans a sore of the 100s of thousands of lives it's taken because of its easy availability and black market gunsmithing operations. There is a trump card that the Kalashnikov has locked behind its bolt action mechanism when it isn't firing a cycle of its 600 round per minute and that is, it can also be used as a sniper rifle. The average sniper rifle allows you a limited amount of rounds at a time, but if you are a legend sniper at the highest vantage point, having the convenience of an AK in your hand can be extremely beneficial to the cause as you would have the advantage of firing more bullets, each at a single sniper shot as it can also be operated by single trigger pulls also.
This means every AK-47 is both a machine and a sniper gun and with the thousands of people in legal forces, civilians, terrorists as well as back door gun-smithers, this poses a bigger threat to the world than an atomic bomb as its almost the equivalent of the bloodshed it could cause in the hands of people who are AK-47 trigger happy. Most definitely adds validation to the fact that the Avtomat Kalishinova, despite it being a genius of warfare leverage, it is also one of the most dangerous guns ever to be produced and distributed in the history of the world for that matter.
6. Glock .45 Caliber G.A.P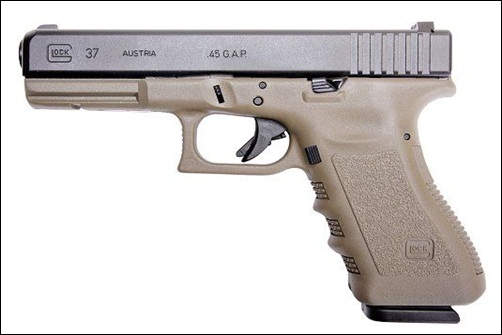 You know it's among the most dangerous guns if it's in acquisition of the Military forces. The Glock is used as a side arm in the military or Special Forces and is sincerely their best friend when their secondary machine gun runs out of ammunition. Because of its light weight and ergonomically designed shell, it makes it superior to every other hand gun in terms of fast paced handling form out of the holster to giving you a firm grip on the handle. Military men will not be issued a firearm that isn't fit to handle the call of duty in the warzone, so you can be certain that the gun packs some substantial heat when in need and isn't to be underestimated by its size and miniature appearance.
There are several types of glocks manufactured and favored by many Special Forces in the United States especially. The Glock .45 Caliber G.A.P in particular though is a small sized hand gun but with immense potential of firepower in both close and long range shots. Having the convenience of a Glock in your hands as opposed to other heavier and sophisticated handguns, provides a tactical advantage over many situations that will require speed and the need to suddenly pull out the gun for use.
Glocks .45 caliber, one of the most dangerous guns in the planet is somewhat of an understated weapon by many people who obviously aren't knowledgeable as the experts in terms of choosing a reliable ,durable and accuracy manufactured handgun but it most definitely can save your life in matters of running out of ammunition from your primary weapon and not having enough time and cover to reload. With a barrel length of 4.48 inches long ,it ensures accuracy in every shot regardless of the shooters stance and position or how the gun is held. One amazing advantage overall in Glock G.A.P is the automatic shooting which simply means the shooter can pull it out as fast as lightning and shoot 10 rounds continuously with one trigger pull instead of waiting a few seconds more for the next bullet to spring up like other common pistols. Shooting 10 rounds automatically in the flesh of one person, 5 rounds split between two people or each round split between 10 people in one go is nothing short of the functionality of a regular machine gun.
5. Heckler and Koch HK416 A5 Assault Rifle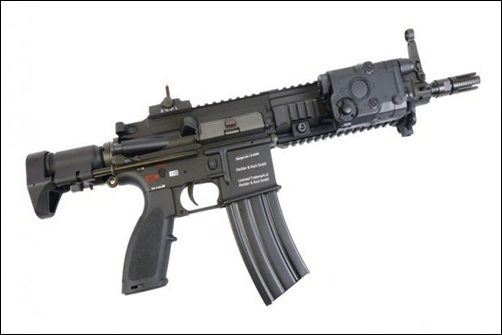 A new and improved destruction instrument from its previous versions that were just as powerful but not AS powerful as its son. The mistakes of the parent of this gun has not been passed onto the next generation and this is a mistake that no gun manufacturer would make as it would defeat sorely defeat the purpose and novelty of upgrading.
Counted among the most dangerous guns for all seasons since it has a 'winter' trigger guard for allowance to use gloves when handling the gun and what's more dangerous about this is that more shots can be pulled off onto anybody or anything since the gloves may prevent finger prints when in the investigation of not so law enforcing countries. When not in the hands of a criminal or terrorist group, the gun fits as yet another Military grade weapon but is similarly favored just as much by highly trained tactical forces and Special Forces as well.
Both parties, terrorist and anti –terrorist who encounter each other each with a HK416 in their hand can be spelled as hell that is going to be raised from the ground up as each party has round about the same amount of firepower against each other and that when collides, is sure to give birth to a land of uncontrolled havoc! If you think that you will be protected from the gunfire of the HK416-A5 which in the dark is often regarded as one of the most dangerous guns,then think again as it comes fitted with night vision capabilities too ,also known as thermal optics and by the successful hit at your darkest hour ,you won't be able to see the light off day due to it having either a 11' ,14.5" , 15.5" , or a whopping 20" barrel length to emphasize accuracy shots indefinitely depending on the angle of the aim.
4. Dessert Eagle Pistol (DE50SRMMB)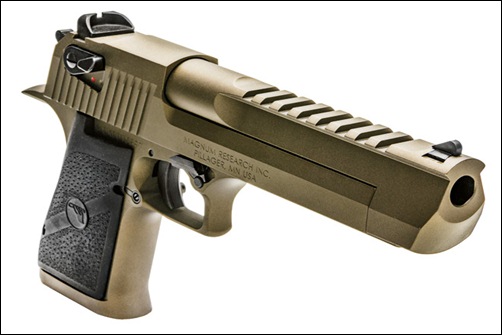 Desert Eagle has been shaped similar to an Eagle if you notice carefully the distinctive handle and the curved edge of the end of the barrel but no, the remarkability of this handgun does not lie in its distinctive, unique triangular shape barreled design. Handling this piece which is among the world's most dangerous guns, would require a strong arm to be able to withstand the powerful blowback after each energized shot of .50 caliber rounds that would literally crack open anything if not dismembering it to bits of a thousand pieces. Sure does live up to its reputation of being proven one the most powerful semi-automatic handgun in the world by several tried and tested incidences by the professionals and world renowned gun experts themselves.
Being one of the world's most dangerous guns, most powerful semi-automatics also makes it one of the world's most dangerous guns too in a sense that there is never an end to satisfaction in anything that has room for improvement or potential to do something bigger. .50 Caliber bullets in a hand gun is more powerful than having a .45 caliber bullet in a machine gun simply because each bullet will be fired exclusively to make each shot a legendary one. Hollow point ammunition can be described as a chainsaw in a cartridge simply because of the extreme damage it can do upon penetrating almost every non-armored surface and with the Desert Eagle's .50 Caliber round capability, this means a master of the handgun collection.
Hollow point bullets can instantly mean a kill if fired at vital parts of a human beingmaking the Desert Eagle one of the deadliest hand guns created and that can be in the hands of anybody that has the money and to purchase one. The Hollow point bullet was designed so that when it is fired, the head expands upon impact on hitting a surface and if in contact with flesh, it can literally explodes ones organs. I guess they don't call Hollow points' not called R.I.P for no reason as when the Radically Invasive Projectile enters your body, this would instantly mean "Rest In Peace" for whomever or whatever meets the unfortunate end of a .50 Caliber hollow point and more especially if fired from a Desert Eagle which actually breeds a new level of high velocity in the bullets when hammering the primer by the pull of a trigger.
3. Smith & Wesson Revolver

In the history of Western countries particularly, the use of cowboys and their side arm revolvers have been phenomenal and carved and impression in popular culture belief that all cowboys trademark weapon of choice is a revolver. Let us clearly differentiate between the historical cowboy Western cowboy Colt .45 revolvers and the Smith & Wesson .45 Caliber revolvers of modern times and advancement.
One major difference between these two immaculately shaped and designed revolvers besides it being one of the old west and another of modern preference and use, the ultimate difference between the two is the variety of choices to choose from in the Smith & Wesson range and collection in terms of .45 caliber revolvers. Any revolver for that matter as we know and visualize it, creates a desire in man to want to own and shoot one .Let's face it and by now it's common knowledge that majority of the world's domestic shootings in either murder or self-defense and petty case robberies prominently links back to the 6 round spin chamber carriage lock and cock barrel of a Revolver.
Due to having a rather lenient gun law to where the purchase of a revolver is concerned, the danger 'revolves' around this as it allows almost anybody with a firearm license worldwide, whether fake or real to easily purchase this weapon from gun stores that stock Smith & Wesson's over the counter. Smith & Wesson Revolvers are regarded as some of the most dangerous guns in the world. They come in various different sizes, calibers and with extra gadgets and accessories that's generously thrown in as well. The larger the barrel of a gun, the more accurate the bullet will fire. Smith & Wesson's prized jewel of their collection in the revolver range gives the crown to its.50 Caliber Model 500 double action that boasts an outrageous somewhat animated 8.38 Inches long barrel and a replaced improvement of the muzzle break.
Smith & Wesson revolvers in general regardless of size of their barrels and calibers are extremely powerful in range of closeness and towards the cracking of far fetched targets too. In the topic of handguns ,Smith & Wesson's Model 500 revolver is a monster of them all and probably the biggest handgun in the world and is said to put down even the largest of game reserve animals too. The Lion isn't king of the jungle anymore and the elephant's size isn't intimidating in line of sight in this hand held beast either. This guns game ends with Checkmate as it can also be fitted with a scope, and a bipod which gives you the advantage of a Long barrel for accurate shots, a scope to delve closely into your target and to enhance precision in the shot as well as a bipod to rest your gun on in order to replicate the combination of a High end sniper rifle with the only difference of it being in the form of a handgun. The capability of walking around with a handgun that has the same capabilities as a sniper rifle means that anybody in prized possession of a Smith & Wesson Model 500 .50 Caliber Revolver is a sniper too, anywhere, anytime and is also counted among the most dangerous guns. If this does not doesn't scare you, it should.
2. Accuracy International AS50 Sniper Rifle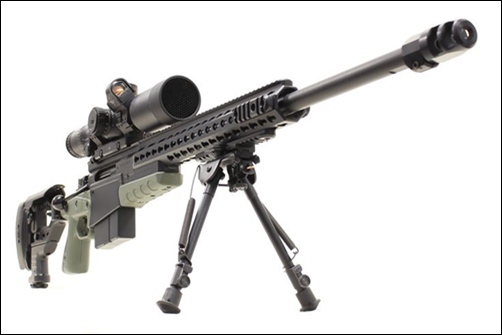 Fires 5 rounds in 1.6 Seconds which is a faster rate than most would even get close to or is it the fastest? AS50 Rifle can be considered as the 'Ghost assassins' ultimate dream particularly because one can hide concealed in a ghillie suit and furthermore, out of sight in a jungle and with one shot of an AS50 Rifle, he can literally blaze fireworks from the ground up by uprooting something as big as a jeep due to being designed in compatibility of the 'Explosive Bullet' – The latestadvancement in ammunition technology.
The AS50 can be referred to as a futuristic rifle in modern warfare as a whole. The Accuracy International Company has been established on the solid foundation in building a legacy primarily based on the objective of providing enhanced as well as highly advanced performance in their weapon concepts in all hope of providing gun users of the AS50 Sniper Rifle the edge of world class leverage in terms of the genius in their work. The competitive advantage of the AS50 apart from other sniper rifles is that it can be used both with regular ammunition (.50 caliber) or with its cutting edge development and usage allowance of the explosive rounds that can uproot a stationary 2 Ton jeep from as far as its range allows it to by means of its explosive effect, making it one of the most dangerous sniper rifles ever created. Immense power can be achieved by a single shot of only the regular rounds and it can be a confirmed death shot if an explosive round was fired on a target even from a distance ,it's a kill shot as nobody would be able to survive an exploding bullet penetrating them at high velocity. As50 Sniper Rifle can be dubbed as "Death shot" and is among the world's most dangerous guns. The only thing that causes a high prevention rate of this gun going into the wrong hands is its high price in the markets.
1. The Tracking Point Rifle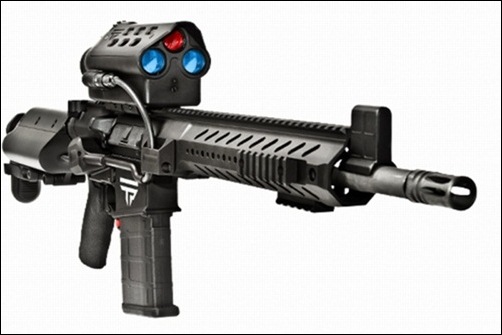 The Tracking Point rifle is the most dangerous guns to exist in our planet. If the world thought they seen and heard it all in terms of the latest state of the art technological and physical developments in artillery ,then all we can say is that an asteroid has landed and has delivered a huge surprise in terms of what it has in store. The Tracking point Rifle is 10 steps ahead of any rifle out there created and anything man made that has a mind of its own is considered an extremely dangerous threat to mankind. Yes…It's been stated and still under constant trial and error to prove that the TPR decides when it wants to shoot which means it's a gun that doesn't always require the action of a user in control of it.
A rifle of this magnitude is still on the brink of making its official introduction as being king of rifles in the world as it has rifted a major safety concern by Firearm regulators. Before the finer details are revealed about what makes the TPR so legendary, while being in a total other league of its own, this statement alone ought to have sparked a bit of stirring up to your souls as this one has been designed with the cooperation and team work of 70 brilliant mindsets in joint venture to create within a span of 3 years, what is to be the most advanced weapon that the world has ever seen. This may sound overly exaggerated but even still in its beginning stages of development ,it still has what expert gunmen would refer to as futuristic genius or a ground breaking development. The gun is counted among the most dangerous guns and even the United States Military has not acquired it yet. Civilians however can purchase it but at a high price. The beauty of it being priced this way for non-governmental entities is that it sells for around $22 000 each which could fit more the budget of the seldom Millionaire rather than the average American civilian.
So what is the big mystery of what makes the TPR the most technologically advanced Rifle in the markets to be sold at a higher price than some standard issue Military weapon mediums?
The Tracking Point isn't your average 'point and shoot' rifle as this one lives ultimately to its name that comes at the greatest competitive or shall I say unfair advantage that the history of weapons has seen. The revolution and big game changer that this gun has is its revolutionary ability to lock a laser onto a moving target and to track the movement of it and on a computer ,only by a single press of a button it will fire at a great range yet still maintaining the ultimate in precision and we're just getting started as to top it up you can pull the trigger but still the gun will make the final decision of when to eventually fire and this will intelligently be determined by when it feels it's in the precise spot of where it needs to be directed at.
The other genius factor of the TPR is that by means of computer and scope development guides ,it can calculate and take into consideration several factors that the novice shooter would take for granted or be ignorant off and this consists of : calculation of wind direction & speed and the ahead distance of the target too. A mind incorporated into the gun to make sure it lives up to its code of precision all the time. Built in with a laser range finder, a ballistics computer and a WI-FI transmitter, you now have the ability to record live streams while capturing both video and audio for future reference and review of your shot at which you may later upload to social media. TPR can be considered as the world's first 'SmartRifle' just as how in today's modernized technological world we have "smartphones" etc. We can conclude to say that the Tracking Point Rifle is next generation in the instrument of modern warfare and although it's a weapon of futuristic capabilities, the world wouldn't fully be ready to handle it responsibly.
Top 10 World's Most Dangerous Guns
The Tracking Point Rifle
Accuracy International AS50 Sniper Rifle
Smith & Wesson Revolver
Dessert Eagle Pistol (DE50SRMMB)
Heckler and Koch HK416 A5 Assault Rifle
Glock .45 Caliber G.A.P
Kalashnikov AK-47
Heckler and Koch MG4
M1911 Browning Pistol
Uzi Sub-Machine Gun
]]>