February 14: 10 Quick Facts You Didn't Know About St Valentine – St Valentine– Everyone knows Valentine's day but maybe not about the martyr who is traditionally honored on that day.
While today is all flowers, chocolates, cards, gifts and the lovey-dovey feeling, St Valentine did not have any of those sweet things. He devoutly professed his faith as a Christian and died upholding the message of modest love.
St Valentine is one saint who has the most inconsistencies in his history; however he is still recognized for his service of love and sacrifice.
Here are 5 quick facts you never knew about the Catholic priest:
1. He Was a Priest
The details of his ordination are not known. The Catholic church appears to recognize 3 different saints bearing the same name; though it is largely believed that they all could be the same person (perhaps at different stages of his life).
According to Catholic Online, St Val did exist.
"Whoever he was, Valentine did really exist, because archaeologists have unearthed a Roman catacomb and an ancient church dedicated to St. Valentine. In 496 AD Pope Gelasius marked February 14th as a celebration in honor of his martyrdom."
2. He Defied the Orders of Emperor Claudius II
The Emperor saw marriage as a threat to the strength of his army. He believed marriage made young men unfit to become soldiers; as such an open relationship was becoming the trend. The emperor made a decree that banned marriage.
St Valentine, as a priest and Bishop upheld the sanctity of marriage by marrying willing couples in secret.
3. He was Arrested & Tortured 
For flouting the decree of the emperor, St Valentine was arrested, stoned, beaten and tortured.
4. He worked Miracles
While in prison he tried to convert his judge to Christianity. History records that while St Valentine was under house arrest, the judge challenged him to restore the sight of his daughter.
St Val took the challenge and laid his hands on the girl and her sight was restored. Another account says the healed girl was his Jailer's daughter.
5. He Was Beheaded
After healing the blind girl, the judge surrendered to Christianity, he released detained Christians and was baptized as well.
Still proclaiming the good news of Jesus Christ and refusing to bow to idols, Emperor Claudius arrested him and ordered his execution. On his death day, he left a note for the healed daughter of the judge/jailer. On it was signed, "Your Valentine".
Some analysts believe this is why we give goodwill cards on Val's day.
St Val was buried on the Via Flaminia to the north of Rome.
6. His Remains Are Found in Several Parts of the World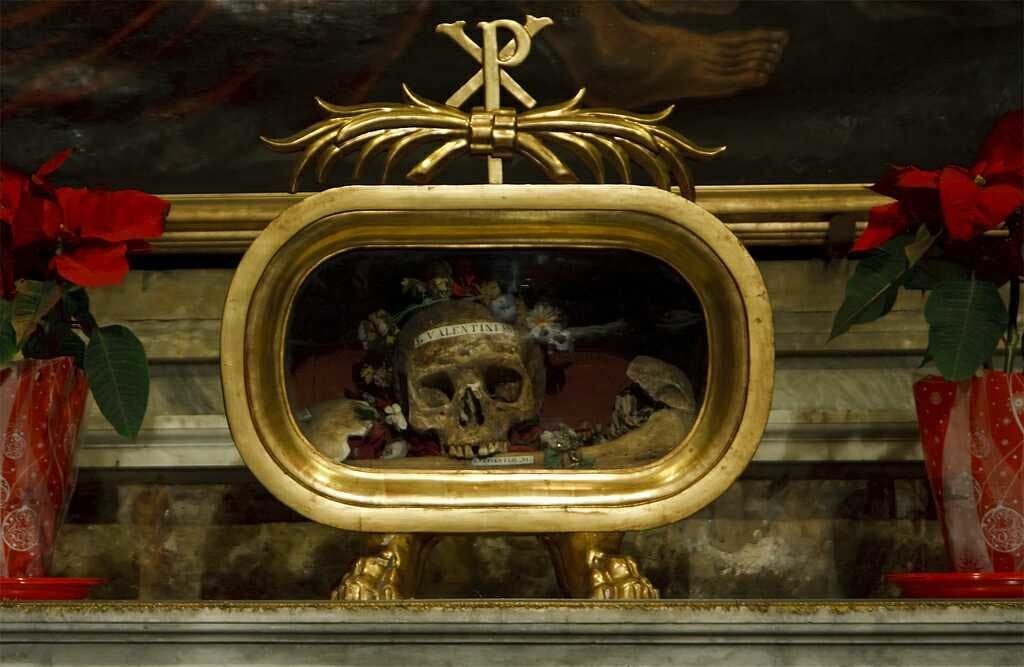 By a stroke of fate, his remains are found in reliquaries in several parts of the world.
St Valentine's skull is housed and adorned in flowers, at the Basilica of Santa Maria, Cosmedin, Rome.
Fr. John Spratt received a gift from Pope Gregory XVI in 1836 containing a "small vessel tinged" with St. Valentine's blood. This gift now stands placed in Whitefriar Street Church in Dublin, Ireland.
"Other alleged relics were found in Prague in the Church of St Peter and Paul at Vysehrad; in the parish church of St. Mary's Assumption in Chelmno Poland; at the reliquary of Roquemaure in France; in the Stephansdom in Vienna; in Balzan in Malta and also in Blessed John Duns Scotus' church in the Gorbals area of Glasgow, Scotland."
See Also: A Single, Simple Rule That Will Change Your Life
7. He is the Patron Saint of Love
St Val is the patron saint of happy marriages, against fainting, beekeepers, love, plague and epilepsy.
8. His Feast Day
St Valentine's feast day falls on the 14 day of February, the believed date of his death. History suggests that he died in the middle of the month.
Another historical account also says that the feast of St Val was created to replace the pagan holiday, Lupercalia where young boys and girls are romantically paired in a festival that honors a Roman god.
9. He is Represented in Pictures with Birds and Roses.
10. Brazillian Scientists Have Given Him a Face
Considering the centuries gone from the time of his death, no one could tell what he looked like. According to Daily Mail, a group of Brazilian scientists have used a model of the skull of the saint to digitally trace what he would have looked like where he still alive today.